Indian Air Force shares a glimpse of 'aerial ballet' with 57 aircraft ahead of Republic Day parade. Watch
Published on Jan 25, 2023 11:43 AM IST
Republic Day 2023: The Indian Air Force has shared a video that shows what it takes to synchronise the aircrafts during the display at Republic Day parade. Watch the video inside.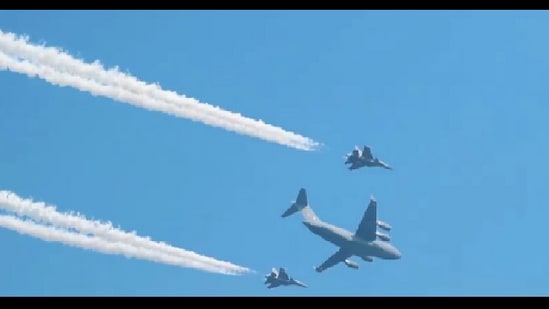 This year, India will commemorate its 74th Republic Day on January 26. From youngsters practising for their performances to nation's forces showcasing their prowess, the preparations to mark the day began earlier this month. Now, the official handle of the Indian Air Force has released a video where they have given a glimpse of what it takes to synchronise the aircrafts during the parade.
The video shows how various aircrafts take off from seven different airfields. As they take off from their respective airfields, each aircraft joins a line on the Kartavya Path. In the post's caption, the Indian Air Force wrote, "57 aircraft from 7 different airfields flying at speeds varying from 120 to 900 kmph. A glimpse at what it takes to present to you the precisely synchronised aerial ballet over #KartavyaPath #RepublicDay2023. This clip has been modified for public viewing."
Take a look at the clip below:
This video was shared a few hours ago. Since being uploaded, it has been liked by 32,000 people and has received several comments.
Take a look at the reactions below:
One individual in the Instagram comments section said, "Awesome. I am very much looking forward to the fly past. It's going to be awesome." A second person added, "Beautifully depicted, very well captured!!" "The way it is shown in reel is just awesome," said a third.