Son relieves mom from US Navy Master Chief's duty after 30 years of service. Watch
Published on Sep 23, 2022 11:18 AM IST
The video of a son relieving his mom from US Navy Master Chief's duty after 30 years of service was posted on Instagram.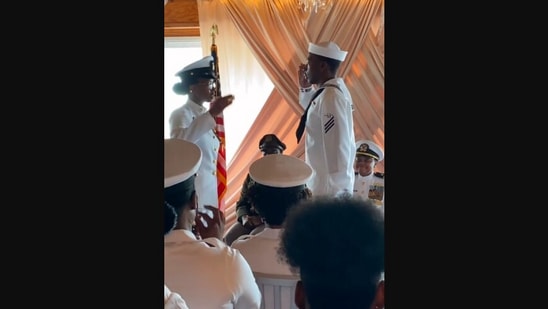 There are different videos on the Internet, including those that often leave people emotional. Just like this clip posted on Instagram that shows a son relieving his mother from duty after 30 years of service. There is a chance that the video will leave you teary-eyed with happiness.
The video was originally posted by an Instagram user who goes by nonprofitcartel. The clip, however, captured people's attention after being re-shared on the Instagram page GoodNews Movement. "Son relieving his mom MASTER CHIEF Latonya Lutef, departing the Navy after 30 years. What a beautiful exchange," they wrote and posted the video.
Take a look at the heartwarming video showing both mom and her son in US Navy uniforms:
The video has been posted a day ago. Since being shared, the clip has gone viral and accumulated more than 1.2 million views. The video has also prompted people to post several wonderful comments.
"What a beautiful moment," posted an Instagram user. "Thank you both for your service," commented another. "Beautiful. Thank you both for your service," expressed a third. "I'm not crying, you are," wrote a fourth.
Topics
Personalise your news feed. Follow trending topics