Temjen Imna Along shares interesting video of stone pulling ceremony from Nagaland. Watch
Nov 24, 2022 01:31 PM IST
A video shared by Nagaland minister shows an interesting stone pulling ceremony from Nagaland.
Temjen Imna Along, Nagaland's minister of tribal affairs often makes tweets that showcase the culture of Nagaland. One can find many interesting tweets and videos where he introduces several traditions from the state. Recently, the minister shared a video that shows the stone-pulling ceremony from Nagaland. The video begins with a group of members of the Angami Naga tribe, a group known for performing the ceremony. In the ceremony, peoplepulla massive stone as a few members of the community standatop the stone.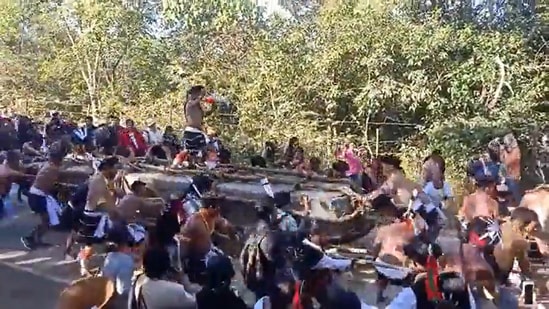 The post's caption read, "You can google "Stone Pulling Ceremony in Nagaland." Thank me later."
Stay tuned with breaking news on HT Channel on Facebook.
Join Now
Take a look at the video shared by Temjen Imna Along here:
This video was shared two back. Since being shared, it has been viewed 83,000 times and has 9000 likes and several comments.
One person in the Twitter comments added, "Most of the Indian villages are blessed with a unique culture. Especially in Northeast, most of them are still alive. We salute them." A second person added, "Thanks for sharing the festival's photo. Now the world will know Nagaland's culture." A third person added, "Very much awesome, sir; keep educating about the heart of Northeast India to rest of our great India."