Kapil Sharma, fiancee Ginni Chatrath call it quits? Reports blame this person
Sep 14, 2017 03:48 PM IST
Kapil Sharma and Ginni Chatrath revealed their relationship in March this year. The two were said to be dating for years.
It seems controversies are not done with Kapil Sharma yet. The host of Kapil Sharma Show may have taken a break from the show, shifted to an ayurvedic facility to get fit and telling anyone who will listen that he didn't keep Shah Rukh Khan waiting but to no avail. Thursday brought about yet another controversy – reports said that Kapil has ended his relationship with his girlfriend of many years, Ginni Chatrath.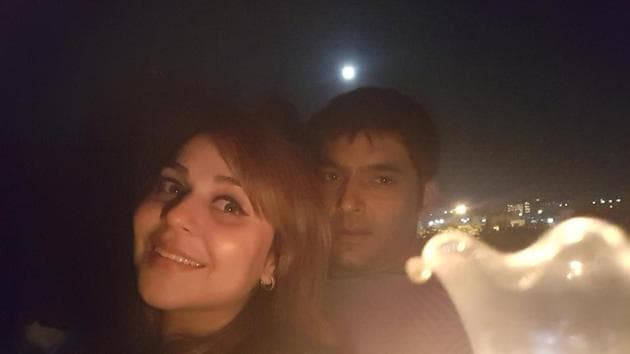 According to a DNA report, Kapil's relationship with his girlfriend Ginni Chatrath is over and their proposed marriage at the end of the year stands cancelled. The report lays the blame for this at the doorstep of "a female member of Kapil Sharma's team who apparently has been a victim of unrequited love for Kapil for years". The woman has not been named.
Earlier, speaking to Hindustan Times, Kapil had said, "Main thoda phisal gaya tha. Abb sambhal gaya hoon (I had slipped, now I've regained composure).Health issues hain. I've checked into an ayurveda clinic for complete detoxification. They're saying I have to stay here for 40 days. But I won't be able to stay that long. I have a film coming up in November."
Says the DNA report, "This team member has been working against Kapil's interests all the time. But he refuses to hear a word against her… When rumours linking Kapil to this team member — spread by the team member herself - gathered momentum, Kapil thwarted those rumours by announcing his marriage plans with Ginny. Now even that is off."
If the break-up news is indeed true, Ginni's relationship with the TV star ended on the same note as when it was revealed to the world – in the harsh glare of publicity.
Kapil had tweeted about his girlfriend of many years in March this year, "Will not say she is my better half .. she completes me .. love u ginni .. please welcome her .. I love her so much:)." Within hours, the news of Kapil's dust-up with Sunil Grover aboard a plane was out. Some even suggested that Kapil revealing the news of his relationship was an attempt to take the edge off his fight with Sunil. Others, however, maintained that Preeti Simoes – producer of Kapil's show -- had outed thenews of the fight. Reacting to this claim, Preeti had said back then, "I was there [on the flight] because it is my job. But what is there to leak? Everyone from the show, who was on the flight has already spoken about it, so what am I going to leak? I don't know why I am being dragged into this? No one has called me to ask me anything. I don't know how I have become part of this? The suffering parties have already conveyed what they had to. I think enough has been said already." Preeti and Kapil had gone their separate ways soon after.
Ginni and Kapil, meanwhile, go all the way back to their college days in Jalandhar, Punjab. The two had appeared on shows together and there was buzz that Ginni may handle Kapil's production house, K9 Productions, after their marriage.