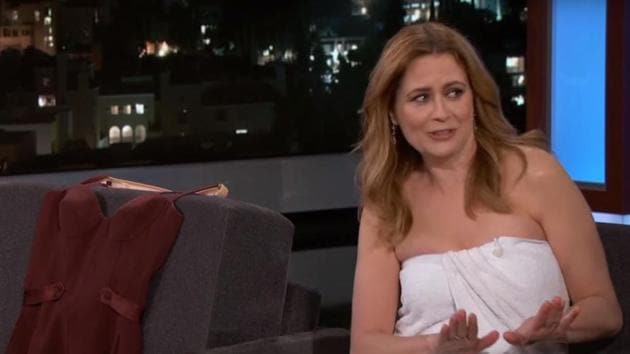 The Office's Jenna Fischer turned up for Jimmy Kimmel's show in a towel after her dress malfunctioned
Jenna Fischer of The Office has to make do with a towel after the zipper for her dress broke before her interview.
UPDATED ON APR 04, 2018 01:22 PM IST
A wardrobe malfunction would be a nightmare for anyone but not for Jenna Fischer. The Office actor turned up for Jimmy Kimmel Live on Tuesday in a towel and a pair of jeans after the zipper for her dress broke just before the interview.
As she entered the studio stage, she waved to the cheering audience with one hand and carried her dress in another. She placed it on the couch for all to see and took a seat herself.
"So, this was my outfit for tonight," she said, "and I waited a little too long to get dressed. And then my zipper broke, and I panicked." Jenna didn't let that keep her from owning the night though. "I'm a Missouri girl," she said, "and the show must go on."
Kimmel was not one to find faults in her outfit choice and said, "Well, I'm not complaining, for sure." Jenna said that while she was physically very comfortable in her towel, she was still 'mentally freaking out.'
Jenna was on the show to talk about her upcoming series, Splitting Up Together. The show is about a couple who have decided to divorce but still live under the same roof for their kids.
Jenna gained popularity as the demure office secretary, Pam Beesly on The Office. The show was hugely popular and ran from 2005 to 2013.
Follow @htshowbiz for more

Close