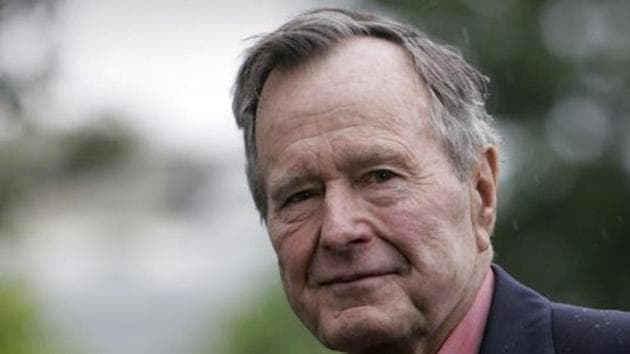 'A legacy of service': Barack Obama, Donald Trump pay tribute to ex-US president George HW Bush
Bush, who helped steer America through the end of the Cold War, has died at age 94, his family announced late Friday.
Buenos Aires | By Agencies
UPDATED ON DEC 01, 2018 03:17 PM IST
United States president Donald Trump on Saturday paid tribute to late former leader George H.W. Bush, praising his lifetime of service to the nation and "unflappable leadership" during the waning days of the Cold War.
"Melania and I join with a grieving nation to mourn the loss of former president George H.W. Bush," Trump said in a statement from Buenos Aires, where he was attending the G20 summit.
"Through his essential authenticity, disarming wit, and unwavering commitment to faith, family, and country, President Bush inspired generations of his fellow Americans to public service," he added.
The office of former president Barack Obama and Michelle Obama said Bush's life was "a testament to the notion that public service is a noble, joyous calling. And he did tremendous good along the journey."
The Obamas credited him with "expanding America's promise to new immigrants and people with disabilities. Reducing the scourge of nuclear weapons and building a broad international coalition to expel a dictator from Kuwait. And when democratic revolutions bloomed across Eastern Europe, it was his steady, diplomatic hand that made possible an achievement once thought anything but - ending the Cold War without firing a shot."
They said: "It's a legacy of service that may never be matched, even though he'd want all of us to try."
Former president Bill Clinton is remembering Bush for his "great long life of service, love and friendship."
In a statement issued early Saturday, Clinton said he would be "forever grateful" for the friendship he formed with the man he turned out of the White House after one term.
Clinton, who defeated Bush in the 1992 presidential election, says he was always struck by Bush's "innate and genuine decency" and by his devotion to his wife Barbara and his family.
Clinton says Bush's extensive record of public service was rare, with his years in the military, in Congress, the United Nations, China, the CIA and as vice president and president.
Clinton adds that Bush never stopped serving even after leaving office, working on tsunami relief in Asia and within the U.S. after Hurricane Katrina.
The two former presidents worked together on those relief efforts.
Bush, who helped steer America through the end of the Cold War, has died at age 94, his family announced late Friday.
Family spokesman Jim McGrath says Bush died shortly after 10 pm Friday, about eight months after the death of his wife, Barbara Bush.
"Jeb, Neil, Marvin, Doro and I are saddened to announce that after 94 remarkable years, our dear Dad has died," his son, former president George W. Bush, said in a statement released on Twitter by a family spokesman.
"George H.W. Bush was a man of the highest character and the best dad a son or daughter could ask for."
Close