A stronger, united European Union is good for India: Here's why
Updated on Jul 02, 2017 07:37 AM IST
Brexit and the ascent of Trump in the US may have strengthened, not weakened, the European Union. And a further integrated, united, stable and stronger EU is in the best interest of India.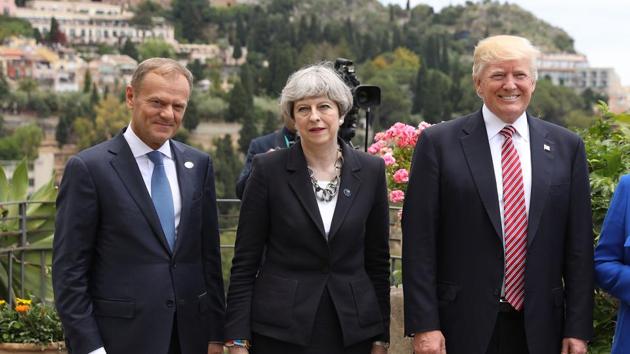 The pro-European Union protests in the UK following last year's shock Brexit vote may have surprised even the EU officials.
Led by a labyrinthine bureaucracy, EU was never a perfect union. At best, it was a work in progress. Just look at how member state economies crashed after the 2008 US meltdown. But it also led to EU coming together to help sustain struggling members like Greece. From the embers of that crisis—which contributed to Brexit, the rise of the Right and ascent of President Donald Trump in the US—a more united EU is emerging, with some of its leaders ready to lead the free world.

Karan Bilimoria, a member of UK's House of Lords, says Brexit was a protest vote in many ways.

But the political upheavals in opposition to austerity measures introduced at the instance of EU leadership are waning, and Germany, along with France, is determined to make the EU a stronger union.

German Chancellor Angela Merkel, the de facto leader of the free world now, is expected to do some plain talking at the G20 summit, where she will face Trump for the first time since he pulled US out of the Paris climate accord.

"Brexit may not have immediately strengthened and united the EU, but it has brought much-needed introspection and possible clarity on how to keep the European integration process going," says Constantino Xavier, fellow, Carnegie India.

Britain, on the other hand, has had an unnecessary snap election that saw Prime Minister Theresa May lose her majority, and is on a tortuous path towards exit from EU that may incur it heavy financial losses if the 'divorce bill' of upwards of £50bn is paid.

In a way, UK's experience precludes other exits: Grexit, Frexit or Spexit. "Political and economic difficulties associated with the Brexit negotiations and its possible economic implications have certainly an impact on any other exit talk," says Gulshan Sachdeva, Jean Monnet Chair and director of Europe Area Studies Programme at Jawaharlal Nehru University.

Xavier agrees: "The complexity and protracted nature of the Brexit negotiation and the volatility of the British electorate on the issue as reflected in the parliamentary elections has soothed any separatist impulses, especially in southern Europe."

The anti-refugee, anti-Muslim rhetoric that Europe's right wing parties employed in the hopes of Trump-like electoral victories fizzled out. See what happened to Norbert Hofer of Austria, Geert Wilders of the Netherlands and Marine Le Pen of France.
"The Austrian and Dutch elections did not go far right and protectionist. In France, in (Emmanuel) Macron, there is a charismatic young leader who is pro-European and centrist and has the willingness to reform. Now, a figure like Trump seems isolated in the world. Theresa May has lost all her credibility and it's only a matter of time before she is replaced," Bilimoria says.

"With the election of Macron, and the probable re-election of Merkel later this year, the conditions are right for a European revival, freed from Britain's skepticism," says Xavier.

Bilimoria even thinks Brexit may be reversed, citing a recent poll by Survation and the Mail on Sunday that showed 69% of the British public oppose 'Hard Brexit' and 53 per cent now back a second referendum.

"Brexit might never happen. The hardline Brexiteers are a minority in the Commons, where a 44-seat majority backs Remain. The country…may even decide it's better just to stay in."

Xavier says it speaks to the strength of the EU that several peripheral regions such as Scotland and others in southern Europe remain deeply committed to the European integration process.

That process is moving forward, albeit slowly. Albania, the former Yugoslav Republic of Macedonia, Montenegro, Serbia and Turkey are official candidates for membership. "For various reasons, Turkey's membership is almost ruled out at the moment. Serbia and Montenegro may be ready in a few years. Bosnia and Herzegovia and Kosovo are potential candidate countries for the coming years," says Sachdeva.

A further integrated, united, stable and stronger EU is in the best interest of India.

UK's visa restrictions on Indian professionals and students will lead them to see other EU countries as possible destinations. "Several European governments have been pitching their economies quite blatantly as alternative destinations for any Indians who may be affected by Brexit," Xavier points out, adding that India's outreach is not just to the larger countries in EU but even the smaller ones such as Portugal, which Prime Minister Narendra Modi recently visited.
And during his visit to Germany, Modi and Merkel also committed to reviving the stalled India-EU Free Trade Agreement negotiations.

EU's regulations and public policies have appeal for India, especially for key development programmes such as clean Ganga, Skill India and Smart Cities, Xavier says. Cooperation is growing in the maritime sector, especially in rights of navigation, piracy and maritime security.

But does the united front being put forth by EU leaders mean that the advocates of insularity are suddenly obsolete?

Sachdeva offers words of caution: "Many populist leaders are in control in Central and eastern Europe. Even if they have not been able to form governments, right wing populism is very much alive in Europe. As a result of economic difficulties, influx of refugees, along with regular incidents of terrorism, these parties will continue to find sufficient support to survive for some time."

Parties like UKIP in the UK, the Front National in France, or the AfD in Germany "have now been facing some setbacks but will be tactically revived as new challenges arise, whether economic recession or a rise in refugees and immigrants," avers Xavier.

But according to Sachdeva, the overall situation is not alarming. He expects reasonable political stability in major countries in the EU.

Xavier also points out the disruptive potential of China, which has been investing massively in the EU region in strategic infrastructure sectors, including transportation, energy and telecommunications.

"The recent Belt and Road Initiative meeting in Beijing showed how this has given Beijing political leverage over smaller countries, including Hungary, Greece and Portugal. In the long run, this will create a tremendous challenge for the EU to adopt common positions on regional and global issues, whether in trade negotiations or joint positions on democracy and human rights."