After seizing Afrin, Turkey vows to expand operation against Syria Kurds
Syria's civil war entered its eighth year this week with heavy fighting on two fronts -- around Afrin and in the rebel enclave of Eastern Ghouta near Damascus, where an air strike on a school killed 15 children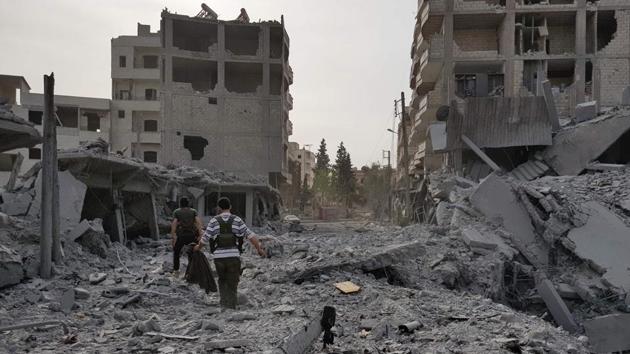 Updated on Mar 20, 2018 10:04 AM IST
Agence France-Presse, Afrin |
Agence France-Presse
Turkey vowed Monday to expand its operation in northern Syria to other Kurdish-held areas after its troops and allied forces seized control of the city of Afrin in a major blow to the Kurds.
A day after Turkish-led forces entered the city virtually unopposed, President Recep Tayyip Erdogan said the fight would now be taken to other Kurdish areas of northern Syria.
"We will continue this process until we entirely eliminate this corridor, including in Manbij, Ayn al-Arab, Tal Abyad, Ras al-Ayn and Qamishli," said the Turkish leader, in a characteristically bullish mood.
Syria's civil war entered its eighth year this week with heavy fighting on two fronts -- around Afrin and in the rebel enclave of Eastern Ghouta near Damascus, where an air strike on a school killed 15 children.
In Afrin, the Kurdish People's Protection Units (YPG) could do little when Syrian Arab fighters backed by NATO's second-largest army thrust into the city.
Thousands fled as the rebels, mostly fighters opposed to Syrian President Bashar al-Assad, celebrated their victory by destroying the statue of Kurdish hero Kawa.
They looted shops and homes, with an AFP reporter saying fighters manning checkpoints on Monday were still joking about their spoils.
The rebels' command on Monday announced it had arrested several people involved in the looting, and was setting up checkpoints around the city to locate any stolen goods.
Ankara also vowed to investigate.
Damascus slams Afrin takeover
According to the United Nations, some 98,000 people were displaced by fighting in Afrin. The International Committee of the Red Cross on Monday called for access to those displaced to provide lifesaving aid.
The exodus sparked concern from the US, with State Department spokeswoman Heather Nauert saying on Monday most of the city's residents had fled.
"We are also concerned over reports of looting inside the city of Afrin. We have repeatedly expressed our serious concern to Turkish officials regarding the situation in Afrin," she said.
Turkey's takeover of Afrin also prompted outrage from Syria's foreign ministry on Monday, which slammed it as "illegitimate."
"Syria condemns the Turkish occupation of Afrin and the crimes it is committing there, and demands the invading forces immediately withdraw from the Syrian territory they occupied," the ministry said.
Pro-government militiamen joined the fight to defend Afrin, but Turkish bombing raids killed dozens of them.
Ankara launched its operation on January 20, saying it was aiming to secure the country's north to allow the three million Syrian refugees on Turkish soil to return.
But it is also ferociously opposed to the YPG and wants to block the Kurdish militia from consolidating a statelet along Turkey's southern border.
For weeks, Erdogan shrugged off calls from world powers to de-escalate, and the capture of Afrin marks a major success for him.
"Afrin is one of the most strategic areas of northwest Syria. It is a piece of real estate that anchors Turkey's presence for many years to come," said Nicholas Heras at the Center for a New American Security.
Air strike hits school
Bitterness is running high among the Kurds, who feel betrayed by the international community for sacrifices they made when battling the Islamic State jihadist group in Syria.
"What is happening in Afrin is ethnic cleansing and the great powers are spectators," said Khaled Issa, a representative of Syrian Kurdish authorities in Paris.
More than 1,500 Kurdish fighters had been killed in the two-month assault, according to a war monitor, including several foreign fighters.
On Monday, the Women's Protection Units (YPJ), the YPG's all-female branch, announced that British member Anna Campbell was killed last week fighting in Afrin.
The YPG has vowed to fight back to reclaim the city, but their chances look slim.
Syria's conflict erupted seven years ago this month with peaceful protests, but a crackdown by Assad paved the way for a complex war that has since killed more than 350,000.
After initially losing swathes of the country, Assad has regained the upper hand with the help of his main backer Russian President Vladimir Putin, who secured a fourth term in Sunday's election.
Syrian troops are now looking to capture Eastern Ghouta outside Damascus with a Russian-backed offensive on the rebel enclave, which they heavily bombed on Monday.
One air strike hit a school in the town of Arbin where civilians were taking shelter, killing 15 children and two women, according to the Syrian Observatory for Human Rights.
The Britain-based monitor said the bombing raid was likely Russian. Moscow has denied targeting civilians in Ghouta but says it is backing Assad's troops.
The dead were among 39 civilians killed Monday across Ghouta, bringing the month-old onslaught's toll to over 1,450 civilians, according to the Observatory.
Some of the strikes hit Ghouta's largest town of Douma, which had seen a week-long lull in shelling after talks between rebels and Russia.
Close Story
Personalise your news feed. Follow trending topics