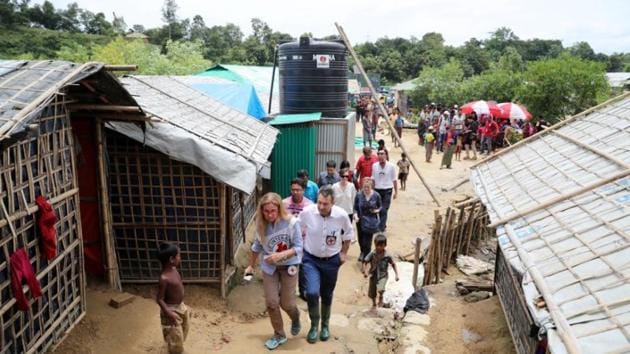 Atrocities on Rohingyas 'unimaginable', says UN chief after visiting camps in Bangladesh
The latest exodus began on August 25 last year following a military crackdown, which drove out over 700,000 Rohingyas in subsequent months
Dhaka | By Press Trust of India
UPDATED ON AUG 16, 2019 01:09 PM IST
UN Secretary General Antonio Guterres on Monday said that Rohingya refugees were facing "a humanitarian and human rights nightmare" after he heard "unimaginable" accounts of atrocities on them during a visit to crammed camps in southeastern Bangladesh where thousands of the persecuted ethnic minority Muslims have taken refuge, fleeing their homes in Myanmar. The Rohingya Muslims had fled their home in Buddhist dominated western Rakhine state of Myanmar to escape the assaults by the country's security forces, who were accused of rape, killing, torture and arson.
The latest exodus began on August 25 last year following a military crackdown, which drove out over 700,000 Rohingyas in subsequent months. "In Cox's Bazar, Bangladesh, I've just heard unimaginable accounts of killing and rape from Rohingya refugees who recently fled Myanmar," the UN chief tweeted after visiting the refugee camps along with World Bank President Jim Yong Kim.
Guterres described the situation as "a humanitarian and human rights nightmare" and said his visit is a "mission of solidarity with Rohingyas refugees and the communities supporting them".
The UN chief's visit came in the wake of Bangladesh pushing for more support for the Rohingya refugees whose camps are at risk of being washed away in the monsoon season. Acknowledging the concern, Guterres said, "The safety of the Rohingya refugees during this monsoon season is priority one...As many as 200,000 (of them) need to be relocated...We cannot allow the monsoons to wash away the hopes of the Rohingya refugees I met today in Bangladesh."
He further said, "The compassion and generosity of the Bangladeshi people shows the best of humanity and saved many thousands of lives."
Bangladesh is currently sheltering over a million Rohingyas.
According to international NGO, Doctors Without Borders, at least 9,400 Rohingya were killed in Rakhine since the Myanmar army launched the crackdown which the UN described as "a textbook example of ethnic cleansing" and global rights group called "genocide".
Myanmar stripped the Rohingyas of citizenship and branded them as illegal immigrants from Bangladesh.
Earlier this year, Bangladesh and Myanmar had reached an agreement for safe and dignified return of the Rohingyas. However, Dhaka accused its neighbour of taking little step to implement the pact.
The United Nations had also struck an outline deal with Myanmar two months ago for return of the persecuted ethnic muslims safely and by choice. But media reports suggested that the agreement provided no explicit guarantee of their citizenship or freedom of movement in Myanmar. Meanwhile, some 100 Rohingyas staged a protest just before Guterres's visit saying they were unhappy about a UN deal with Myanmar to assess the ground conditions for their possible return.
The International Committee of Red Cross (ICRC) president, Peter Maurer, who had visited the camps yesterday had said he did not believe returns should start any time soon as the condition in Rakhine was not yet conducive for the Rohingyas' safe repatriation.
"I think there is still a lot of work to do till large scale repatriation is a realistic possibility...Much more has to happen in terms of reception structure, preparations, also preparation of the communities to receive again those who came (to Bangladesh) from Myanmar," Maurer had said.
The Red Cross chief's Bangladesh tour followed his Myanmar visit where he said, he saw abandoned villages and destroyed houses.
Earlier in May, an UN Security Council delegation had visited Rakhine and met the refugees who gave detailed accounts of the killings, rape and torching of villages by Myanmar's military, the allegations vehemently denied by the Bhuddhist-dominated nation.
Topics
Close