The affidavit was filed on September 20, in response to a petition from Senoara Begum, a woman from Myanmar and her three children who are living in India, challenging the decision of the Union home ministry and FRRO refusing their exit permit applications to leave India and travel to the United States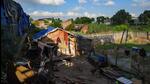 Updated on Sep 22, 2022 07:30 AM IST
Asked specifically about what India can do on the issue of Rohingya refugees, Bangladesh Prime Minister Hasina said: "India is a big country. It can do a lot."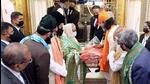 Updated on Sep 06, 2022 07:39 AM IST
Both the Union home ministry and the Delhi government denied role in the purported decision of shifting the Rohingyas camping in the city to flats. The Delhi government on Thursday wrote to Amit Shah urging him to look into the mater as to whose instruction was followed.

Published on Aug 20, 2022 05:56 AM IST
Speaking to news agency ANI, Thakur said Rohingyas who live in Delhi are illegal migrants, who receive free water, electricity and ration.

Updated on Aug 18, 2022 07:37 PM IST
Here are today's top news, analysis, and opinion. Know all about the latest news and other news updates from Hindustan Times.

Updated on Aug 18, 2022 09:34 AM IST