Britain: Teenage boys wear skirts to school to protest against 'no shorts' policy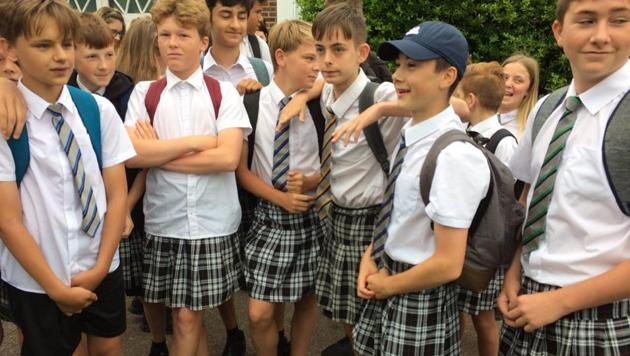 Updated on Jun 22, 2017 05:25 PM IST
Dozens of teenage boys have turned up to school wearing skirts after their headteacher refused to relax the uniform code banning shorts despite the heatwave gripping Britain .
Pupils at the Isca academy in Exeter argued it was too hot for long trousers and asked if they could wear shorts as temperatures this week rose above 30 degree Celsius.
When this was refused a handful turned up on Wednesday in skirts borrowed from friends and sisters. By Thursday the protest had grown and dozens were wearing skirts.
One boy told Devon Live he had been told on Wednesday the skirt was too short and his legs too hairy. Some of the boys had taken this into account and bought razors to shave their legs.
One boy in year nine wearing a skirt said the protest had started with five boys wearing skirts but he expected "hundreds" to follow suit. Asked if he was enjoying the experience, he said he appreciated the "nice breeze".
Another said it was "quite refreshing", pointing out that if even Royal Ascot had allowed racegoers in the royal enclosure to remove their jackets then the school ought to relax its dress code.
One mother said: "My 14-year-old son wanted to wear shorts. The headteacher told them: 'Well, you can wear a skirt if you like' – but I think she was being sarcastic.
"However, children tend to take you literally, and because she told them it was OK, there was nothing she could do as long as they are school skirts."
Another mother said: "Children also don't like injustice. The boys see the women teachers in sandals and nice cool skirts and tops while they are wearing long trousers and shoes and the older boys have to wear blazers. They just think it's unfair that they can't wear shorts in this heat."
The Guardian has asked the school to comment.
Close Story