Man shot by UK police at London Bridge, Scotland Yard says 'terror incident'
Updated on Jul 31, 2020 02:54 AM IST
Videos and photographs on Twitter showed several police cars and buses on the bridge and a truck straddling several lanes.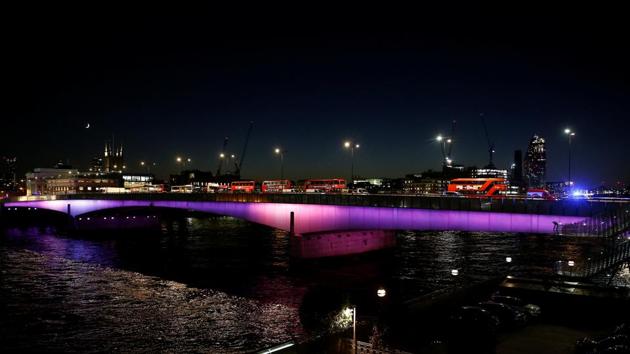 A man with a hoax suicide vest was shot dead and several stabbed – some suffering serious injuries – as the festive air in London was jolted on Friday with scenes that reminded many of the June 2017 terror attack on London Bridge.
Prime Minister Boris Johnson, who was on the campaign trail for the December 12 election, returned to Downing Street as news of the knife attack spread and Scotland Yard declared the incident as terror-related.
Neil Basu, assistant commissioner for specialist operations at Scotland Yard, said: "A male suspect was shot by specialist armed officers from City of London Police and I can confirm that this suspect died at the scene".
Watch | London Bridge: British Police shoot suspect after stabbing incident
"A number of other people received injuries…As you would expect, due to the nature of the incident, we responded as though it was terrorist-related. I am now in a position to confirm that it has been declared a terrorist incident".
Basu went on to confirm that the suspect was wearing a hoax suicide vest. Footage on social media showed members of the public grappling with the suspect before the police shot him dead.
London mayor Sadiq Khan said: "I'm mayor of the greatest city in the world. One of our strengths is our diversity. But we do know that there are people out there who hate our diversity, what we stand for and seek to divide us".
"What is amazing about today is that we saw in one individual, the suspect, the worst of humanity but we also saw in the response from members of the public but also our emergency services the very best of humanity. The message I want to send today is that we will not allow anyone to divide us."
The incident disrupted travel across London, where a large number of people were out shopping on 'Black Friday', when retailers offer substantial deals before the Christmas season. The UK's terror threat level was lowered earlier this month from 'severe' to 'substantial'.
Johnson said: "I want to thank the emergency services and members of the public for their immense bravery in responding to this suspected terrorist attack at London Bridge. This is an appalling incident and all my thoughts are with the victims and their families".
Topics
Close Story
Personalise your news feed. Follow trending topics