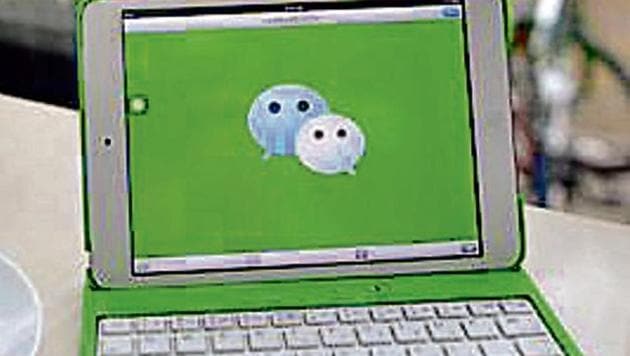 China's messaging app WeChat blocked 500 mn messages to stop fake news
WeChat is one of the largest standalone messaging apps in China by monthly active users, counted at more than 963 million monthly.
Hindustan Times, Beijing | By Sutirtho Patranobis
, Beijing
UPDATED ON MAY 07, 2018 11:53 PM IST
WeChat, China's most popular social network, blocked more than 500 million messages and sent out 37 million alerts to quash fake news by the end of 2017, a new Chinese government report has revealed amid increasing fears of internet censorship in the country.
Used by nearly a billion subscribers, WeChat is now working with third party companies to block posts as part of what the government report described as efforts to safeguard cybersecurity.
"WeChat has built a mini-programme into its social messaging application dedicated to refuting 'rumours', including postings on topics such as the disappearance of Malaysia Airline Flight 370 in 2014 and various other topics, such as 'cures' for cancer," Hong Kong-based South China Morning Post reported on Monday, citing the report.
It added that by the end of 2017, the "programme has quashed 'rumours' for over 19.7 million users and around 37 million alerts were sent out". The report was released by the China Academy of Information and Communications Technology (CAICT), an institute run by the industry and information technology ministry. The social media application WeChat was introduced in 2011 by the Chinese tech giant, Tencent Holdings. It is now one of the largest standalone messaging apps by monthly active users, counted at more than 963 million monthly, according to a recent report by official Xinhua news agency.
The application – used globally but largely China-focussed - is now integral to daily life in the country, letting users make payments, order food, book tickets for flights and trains, book taxis and even carry out financial transactions. It can also be used to pay utility bills for electricity and telephones.
The CAICT report said the platform has contributed millions of jobs and generated massive revenues. It said: "WeChat...boosted the country's information consumption by 210 billion yuan ($ 33 billion) in 2017."
Close