Try not to cringe: Donald Trump's history of awkward handshakes, recapped
The US president just can't seem to be able to greet his foreign guests without leaving them baffled, uncomfortable, wrong-footed or in pain.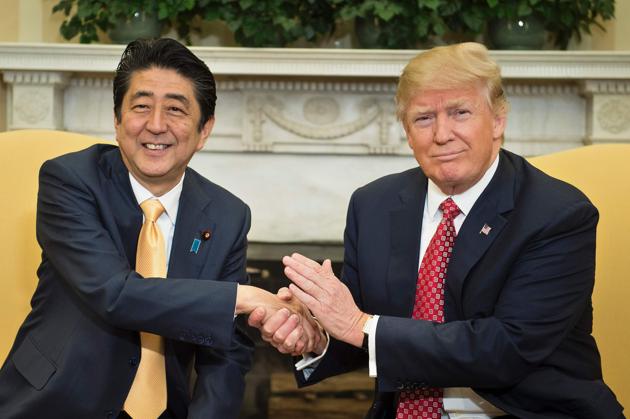 Updated on Mar 18, 2017 05:21 PM IST
Donald Trump's done it again. The US President left yet another foreign leader - German Chancellor Angela Merkel - red-faced during her first visit to the White House and sparked a flurry of memes and tweets over his handshake.
Whether it's a reflection of his unusually undiplomatic approach to foreign relations, or just his relative inexperience in politics, Trump just can't seem to be able to greet his foreign guests without leaving them baffled, uncomfortable, wrong-footed or in pain.
Here are some that make for either difficult or delightful viewing, depending on your point of view:
SHINZO ABE: THE GRASP THAT WON'T LOOSEN
Japan Prime Minister Shinzo Abe's awkward 19-second long handshake with Trump in February, during which Trump patted Abe's hand, praised it as "strong", and which left Abe seemingly wincing in pain, lit up social media. One commenter called it "excruciating" while another joked Abe was regretting visiting the White House so close to Valentine's Day.
ANGELA MERKEL: NO HANDSHAKE FOR HER
To deliver painful, unsettling handshakes is one thing - but to refuse to give one at all? German Chancellor Angela Merkel seemed to have been at the receiving end of a snub by Trump on Friday when he seemed to either not hear or ignore her request for a handshake in front of press members at the White House.
But that wasn't the only awkward moment between them. While giving a press conference with Merkel, Trump joked that they both shared the experience of having been allegedly wire-tapped by the Barack Obama administration. The comment seemed to take Merkel by surprise, and she reacted by narrowing her eyes, wincing and then looking at the US president in seeming bafflement - a reaction that did not escape Twitter.
JUSTIN TRUDEAU: TURNING THE TABLES
If there's one thing common about all of Trump's handshakes, it's the odd jerk-and-pull movement he deploys to anyone unlucky enough to have to shake hands with him, from his Supreme Court pick Neil Gorsuch to his vice-president, Mike Pence.
Observers have expressed amusement at the gesture and many see it as Trump's attempt to try to dominate others. But Canada Prime Minister Justin Trudeau won praise for the deft way in which he prevented this by bracing himself on Trump's right shoulder, controlling it and making the first move to disengage from the handshake.
Round One goes to Trudeau.
Close Story