Early Omicron infection unlikely to protect against current BA.4 & BA.5 variants
Published on Jun 18, 2022 04:38 AM IST
Omicron BA.2.12.1 - which is presently causing most infections in the United States - and Omicron BA.5 and BA.4, which now account for more than 21% of new U.S. cases, contain mutations not present in the BA.1 and BA.2 versions of Omicron.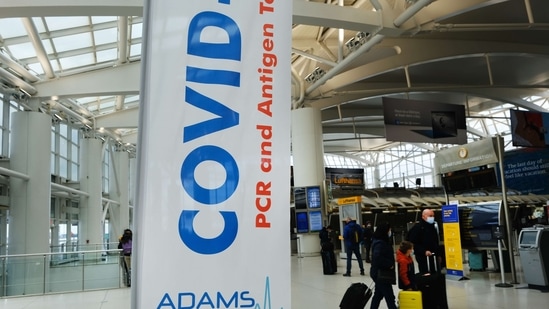 People infected with the earliest version of the Omicron variant of the coronavirus, first identified in South Africa in November, may be vulnerable to reinfection with later versions of Omicron even if they have been vaccinated and boosted, new findings suggest.
Vaccinated patients with Omicron BA.1 breakthrough infections developed antibodies that could neutralize that virus plus the original SARS-CoV-2 virus, but the Omicron sublineages circulating now have mutations that allow them to evade those antibodies, researchers from China reported on Friday in <i><strong>Nature</strong></i>.
Omicron BA.2.12.1, which is presently causing most infections in the United States, and Omicron BA.5 and BA.4, which now account for more than 21% of new U.S. cases, contain mutations not present in the BA.1 and BA.2 versions of Omicron.
Those newer sublineages "notably evade the neutralizing antibodies elicited by SARS-CoV-2 infection and vaccination," the researchers found in test-tube experiments.
The monoclonal antibody drugs bebtelovimab from Eli Lilly and cilgavimab, a component of AstraZeneca's Evusheld, can still effectively neutralize BA.2.12.1 and BA.4/BA.5, the experiments also showed.
But vaccine boosters based on the BA.1 virus, such as those in development by Pfizer/BioNTech and Moderna, "may not achieve broad-spectrum protection against new Omicron variants," the researchers warned.
Previous research that has not yet undergone peer review has suggested that unvaccinated people infected with Omicron are unlikely to develop immune responses that will protect them against other variants of the coronavirus.
"My personal bias is that while there may be some advantage to having an Omicron-specific vaccine, I think it will be of marginal benefit over staying current with the existing vaccines and boosters," said Dr. Onyema Ogbuagu, and infectious diseases researcher at Yale School of Medicine in New Haven, Connecticut who was not involved in the new study.
"Despite immune evasion, the expectation can be that vaccines will still protect against serious disease," Ogbuagu said. "If you're due for a booster, get a booster. What we've learned clinically is that it's most important to stay up-to-date with vaccines" to maintain high levels of COVID-19 antibodies circulating in the blood.
Adolfo Garcia-Sastre, a microbiology and infectious diseases researcher at the Icahn School of Medicine at Mount Sinai in New York City, suggested that better protection might be seen with vaccines that target multiple strains of the virus or with intranasal vaccines that would increase protection from infection and transmission by generating immunity in the lining of the nose, where the virus first enters.
Garcia-Sastre, who was not involved in the research, said by the time one variant-specific vaccine becomes available, a new variant may well have taken over.
Close Story
Twitter has to give Elon Musk only one bot checker's data, judge rules

Twitter Inc. was ordered to hand over files from its former consumer product head to Elon Musk on spam and bot accounts the billionaire has cited in seeking to abandon his $44 billion purchase of the company. Far Twitter has given up the names of "records custodians," who aren't as familiar with the data in question. He was pushing Twitter into new product areas, like live audio spaces and newsletters, before he was ousted.

Putin says Russia ready to offer its most advanced weapons to country's allies

Russian President Vladimir Putin on Monday vowed to expand military cooperation with the country's allies, noting that Moscow is ready to offer them its most advanced weapons. Putin hailed the Russian military's action in Ukraine, which has triggered massive Western sanctions, and thanked Moscow's allies for their support. "We highly appreciate that we have many allies, partners and people who share our thinking on various continents," he said.

Pfizer CEO Albert Bourla tests positive for Covid with mild symptoms

The CEO is one of many people who have contracted Covid despite receiving full vaccination and boosting. The mutating coronavirus has continually found ways to at least partially evade immunity induced by shots and previous infections, although usually causing milder cases.

China holds more military drills as US lawmakers meet Taiwanese president

China has carried out fresh military drills near self-governed Taiwan in response to the ongoing visit of US lawmakers to the island as high tension, sparked earlier this month by the visit of US House Speaker, Nancy Pelosi, to Taipei, continues in the Taiwan Strait. China claims Taiwan as part of its territory and says official ties between the island and another country is a violation of the mainland's sovereignty.
Personalise your news feed. Follow trending topics