8 Indians killed in Sri Lanka's bombings blamed on local Islamist group
Updated on May 02, 2020 09:13 PM IST
Sri Lanka said on Monday it was invoking emergency powers in the aftermath of devastating bomb attacks.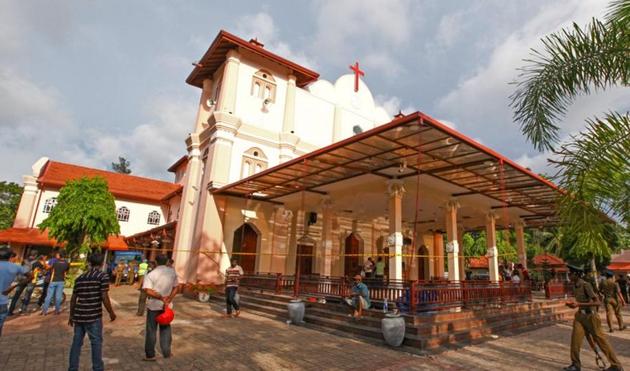 The death toll from attacks on churches and luxury hotels across Sri Lanka rose to 290 on Monday with over 500 injured, police have said. Eight Indians were among those killed in the bombings in Sri Lanka, confirmed India's external affairs minister Sushma Swaraj on Monday.
Sri Lanka said on Monday it was invoking emergency powers in the aftermath of devastating bomb attacks. The emergency law, which gives police and the military extensive powers to detain and interrogate suspects without court orders, will go into effect at midnight on Monday.
There was no claim of responsibility for the attack but suspicion was focusing on Islamist militants in the Buddhist-majority country. Investigators said seven suicide bombers took part in the attacks while a government spokesman said an international network was involved.
Also Watch - At least 160 killed, 400 injured in multiple blasts in Sri Lanka
Sri Lankan authorities have arrested 24 people from the minority Muslim community in connection with the multiple blasts that rocked the island nation on Sunday, reported news agency PTI.
Follow LIVE updates here.
Eight apparently co-ordinated explosions targeted Easter worshippers and high end hotels popular with international guests.
An improvised bomb discovered at the main airport in Colombo was defused late Sunday, police said.
A nationwide curfew imposed on Sunday shortly after the blasts was lifted early Monday, with AFP journalists reporting a steady stream of people and tuk tuks on the streets of Negombo.
There was still a heavy security presence at the city's St Sebastien's Church, the scene of one of the devastating blasts.
Sri Lanka's small Christian minority -- just six percent of the 21 million-strong population -- has been targeted by violence in the past, but never to such brutal effect.
Also Read | Sri Lanka bomber queued at hotel buffet then unleashed devastation
At least two of the explosions involved suicide bombers, including one who lined up at a hotel breakfast buffet before unleashing carnage.
Japan's foreign ministry said one of its nationals was among the dead.
The churches targeted included the historic St Anthony's Shrine in Colombo, where the blast blew out much of the roof.
Bodies lay on the floor of the church, covered in patterned scarves and white sheets, some of them stained with blood.
Shattered roof tiles and shards of glass littered the floor, along with chunks of plaster blasted from the walls by the explosion.
Personalise your news feed. Follow trending topics