Hafiz Saeed's son, son-in-law to contest Pakistan elections: Report
Asian News International, Lahore |
Asian News International
Jun 23, 2018 05:48 PM IST
The Election Commission of Pakistan (ECP) has accepted the nomination papers of Hafiz Talha Saeed (son) and Hafiz Khalid Waleed (son-in-law) for National Assembly elections
Jamaat-ud-Dawah chief Hafiz Saeed's son and son-in-law will be contesting from Punjab province in the July 25 general elections.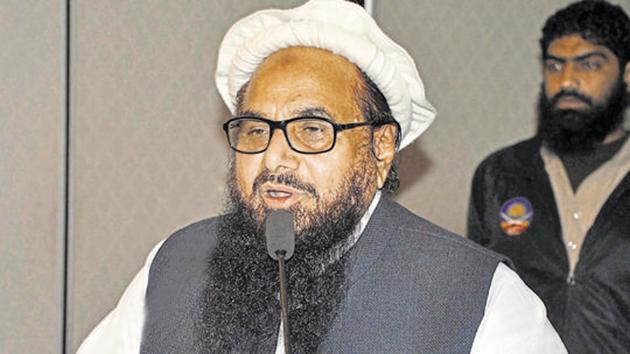 The Election Commission of Pakistan (ECP) has accepted the nomination papers of Hafiz Talha Saeed (son) and Hafiz Khalid Waleed (son-in-law) for National Assembly seat-91 (Sargodha-IV) and National Assembly seat-133 (Lahore-XI) respectively, the Dawn, quoted JuD's Deputy Information Secretary Ahmed Nadeem, as saying.
According to the report, the two are among 265 candidates who have been fielded by the Jamaat-ud -Dawah for contesting the upcoming polls on the little-known Allah-o-Akbar Tehreek's (AAT) ticket, registered with the Election Commission of Pakistan (ECP).
The AAT was formed about 15 years ago and was registered with the ECP in 2013.
The JuD, a front for the Lashkar-e-Taiba terror outfit which carried out the 2008 Mumbai attack which claimed 166 lives, launched its political front Milli Muslim League (MML).
The ECP had earlier rejected MML's application to register Saeed's political party on the Pakistan interior ministry's recommendation, saying that the "MML has links with banned militant outfits".
In a letter to ECP in September last year, the interior ministry said the 'recent political activities of MML have been officially objected to at the diplomatic level'.
The MML will put forward candidates from 80 NA and 185 provincial seats from across Pakistan, the report said.
However, Punjab will remain the focus, where 50 NA and 152 provincial assembly candidates will be contesting from.
The AAT will contest elections from Sindh, Punjab and Khyber Pakhtunkhwa on provincial and national assembly seats, as per several media reports.
This is in contradiction with the AAT's earlier denial of forming an alliance with any political party, saying that, all candidates contesting the elections on its platform, including the ones from the MML, will be members of the AAT only.
(The story has been published from a wire feed without any modifications, only the headline has been changed)