How many times has Islamic State chief Baghdadi been 'injured' or 'killed'?
Every few months, there are reports of Abu Bakr al-Baghdadi being "seriously injured" or even "killed" in an airstrike or attack by forces opposed to his Islamic State group.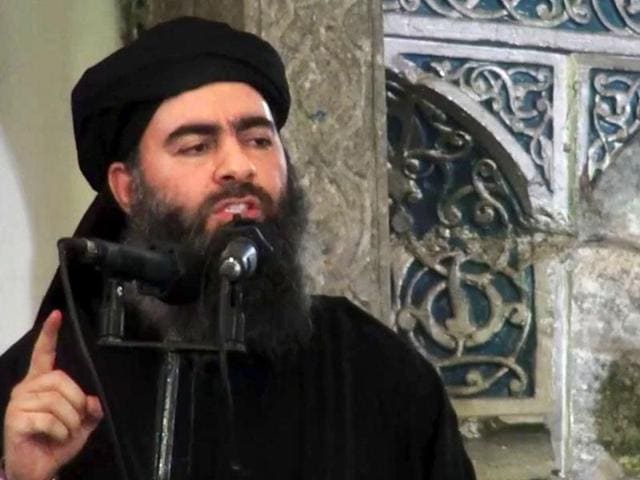 Updated on Oct 04, 2016 06:45 PM IST
Hindustan Times |
, New Delhi
Rezaul H Laskar
Islamic State's secretive chief Abu Bakr al-Baghdadi is fast becoming like the proverbial cat with nine lives. Every few months, there are reports of him being "seriously injured" or even "killed" in an airstrike or attack by forces opposed to his dreaded terror group.
The latest is a report from Iraqi news agency WAA, which said that a lunch prepared for Baghdadi and three IS leaders in Nineveh governorate of Iraq was poisoned. This left four men suffering from "severe poisoning" and they were "transferred to an unknown location under strict measures".
As expected, this report was repeated round the world, triggering speculation once again about the fate of Baghdadi, the target of a manhunt by the US and its allies.
The re-emergence of Baghdadi after reports of his "death" has only added to his mystique, given that most people didn't even know what he looked like till he appeared in a video of a sermon at a mosque in Mosul in July 2014. Before then, there were only two known photos of Baghdadi.
Read | Abu Bakr al Baghdadi, the mysterious head behind Islamic State's machinery
Here are the past occasions when Baghdadi was reported dead or injured:
November 2014
Baghdadi was named the leader of the Islamic State of Iraq, the predecessor of the IS, in May 2010. One of the first reports that he had died emerged months after he was made the "caliph" of the IS in June 2014. In November of that year, it was reported that Baghdadi had been killed in a US air strike.
A week later, Baghdadi surfaced with an audio tape that called for "volcanoes of jihad" around the world.
March 2015
Baghdadi was "seriously injured" in an air strike by the US-led coalition at al-Baaj in Nineveh on March 18, 2015, leading to urgent meetings of IS leaders who believed he would not survive and even made plans to name a new leader. Reports later said he had made a slow recovery.
A subsequent report even said Baghdadi remained incapacitated because of suspected spinal injuries some two months after the attack and that he had been secretly treated at a hideout by two doctors from Mosul.
October 2015
After an air strike on a convoy of senior IS commanders near Iraq's border with Syria in October 2015, the Iraqi military had said in a statement that the attack had targeted Baghdadi's motorcade as he travelled to Karbala. As with several other claims by the Iraqi military about targeting Baghdadi, this too turned out to be incorrect. Though other IS leaders were killed, Baghdadi was not among them.
June 2016
In June, there were reports in the media in several countries, including Turkey's Yeni Safak daily and Iraq's Al Sumariya TV network, that Baghdadi had been killed or injured when an air strike hit an IS convoy near Raqqa. This was later found to be incorrect and reports even suggested that someone had circulated a fake claim about Baghdadi's death that was digitally altered to suggest it was issued by one of the media outlets of the IS.
Also read | Baghdadi was normal family man, ideal father, says IS chief's ex-wife
Close Story