Hundreds of Rohingya cross into Bangladesh, fleeing unrest
Hundreds of Rohingya have arrived in Bangladesh after fleeing violence in neighbouring Myanmar, community leaders said today, many with horrific tales of troops killing and burning villages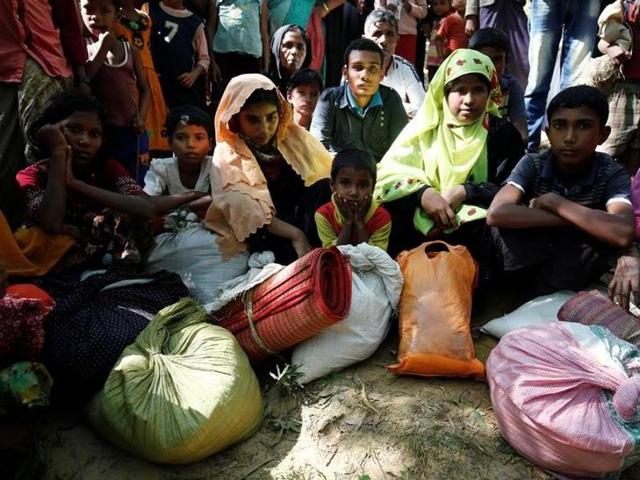 Published on Nov 22, 2016 06:43 PM IST
Hundreds of Rohingya have arrived in Bangladesh after fleeing violence in neighbouring Myanmar, community leaders said today, many with horrific tales of troops killing and burning villages.
Bangladesh says it has prevented hundreds more from crossing into the country, despite pleas from the United Nations to open its border after up to 30,000 Rohingya were displaced by violence in Myanmar's Rakhine state.
Bangladeshi troops have intensified patrols along the 237-kilometre (147-mile) border, but Rohingya community leaders estimate that 1,000 people have still managed to get in over the last week.
Most are hiding out in camps for the 32,000 legally registered already living in southeast Bangladesh, fearing repatriation if they are found by authorities.
Mohammad Amin, 17, said he and 15 others fled their homes in Rakhine five days ago and reached Bangladesh by swimming across the Naf river that divides the two countries.
"The (Myanmar) army killed my father and elder brother. I hid on a hill and then walked and swam across the river, and took refuge at a mosque (in Bangladesh)," he told AFP by phone from Cox's Bazar near the border.
"Where I looked I saw only burnt houses. I don't know what happened to my mother and sister."
Zohra Khatun, 25, arrived late Monday with her seven children after their village was burned to the ground, and has been helped by a relative already living in a refugee camp in Bangladesh.
"I waited two days before I had the chance to cross the river to come here," Khatun told AFP by phone.
The relative, who asked not to be named, said that at least 100 families had arrived at the camp from Myanmar in the last two days.
Another community leader said 500 people had taken shelter near two other Rohingya refugee camps in the area.
Commanders of the Border Guard Bangladesh said their troops had blocked nearly 300 Rohingya from crossing the border overnight, the highest number since the crisis began last month.
"We're preventing them on the zero line, especially those who were trying to cross the barbed-wire fences erected by Myanmar," said Imran Ullah Sarker.
Close Story