India-Canada ties: Modi, Trudeau hold talks at G7 summit
Updated on Jun 28, 2022 12:25 AM IST
A tweet from India's prime minister's office noted the two leaders 'took stock of India-Canada friendship and discussed ways to further strengthen it across various sectors'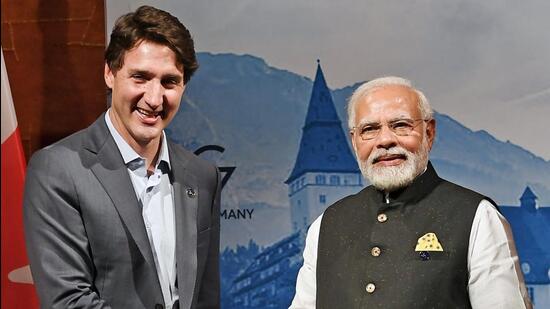 TORONTO: India Prime Minister Narendra Modi held his first in-person bilateral meeting with his Canadian counterpart Justin Trudeau in over four years in Germany on Monday.
A tweet from India's prime minister's office noted the two leaders "took stock of India-Canada friendship and discussed ways to further strengthen it across various sectors".
The meeting was preceded with positive signals as the two PMs exchanged greetings and smiles at the gathering for the family photo for the G7 summit.
This was the first time they held such discussions sitting across from each other since Trudeau visited India in February 2018. The bilateral meeting took place on Monday evening in the German resort of Schloss Elmau, on the margins of the ongoing G7 summit.
A preparatory meeting for this bilateral was held last Thursday between India's External Affairs Minister S Jaishankar and Canada's Minister of Foreign Affairs Mélanie Joly on the margins of the Commonwealth Heads of Government Meeting 2022 in Kigali, Rwanda.
According to senior Indian officials, the agenda was to include significant global issues including the Indo-Pacific, the situation in Ukraine, the commodities crisis caused by the Russian attack, including its impact on food security.
They were cautious in keeping expectations from the meeting tempered as outstanding irritants remain like the growth in pro-Khalistan elements in Canada. India wants to take that into account while focusing on strengthening the trade relationship between the two countries, especially with an Early Progress Trade Agreement (EPTA) under consideration and likely to be sealed before the end of the year while dialogue continues on a Comprehensive Economic Partnership Agreement (CEPA).
This was also the first in-person meeting between the two PMs since Trudeau's unprompted remarks in December 2020 on the farmers' agitation which caused a rupture in ties. However, since then Trudeau has refrained from similar comments on India's internal affairs and reined in the ruling Liberal caucus members from doing so as well.
In February last year, Trudeau had also reached out to Modi and requested a shipment of Covid-19 vaccines from India during the course of a call. New Delhi had reacted positively and sent a consignment of Covishield to Canada in March 2021.
Close Story
Personalise your news feed. Follow trending topics