Joe Biden renominates Eric Garcetti as envoy to India
Jan 05, 2023 10:51 AM IST
Eric Garcetti: Eric Garcetti, 51, is a close aide of President Biden. He has been Mayor of Los Angeles since 2013.
US President Joe Biden has renominated Eric Garcetti as his envoy to India, with the White House exuding confidence that the former Mayor of Los Angeles would be confirmed by the Senate this time.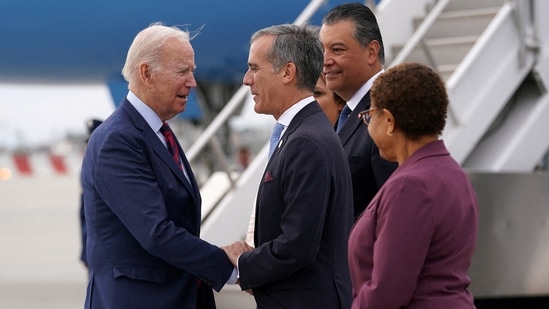 Read more: 8 dead including 5 children found fatally shot at home in US' Utah: Report
Stay tuned with breaking news on HT Channel on Facebook.
Join Now
Garcetti, 51, is a close aide of President Biden. He has been Mayor of Los Angeles since 2013.
"Eric M Garcetti, of California, to be Ambassador Extraordinary and Plenipotentiary of the United States of America to the Republic of India," the White House said after sending the nomination to the Senate.
The move came as the White House began renominating candidates who were not confirmed in the last Congress.
"As Secretary (of State, Antony) Blinken said very recently, our relationship with India is crucial and it's consequential, so we see this as a very important nomination," White House Press Secretary Karine Jean-Pierre told reporters on Tuesday at her daily news conference.
In July 2021, President Biden nominated Garcetti as his Ambassador to India.
His nomination was initially blocked by Republican Senator Chuck Grassley because of allegations of inappropriate behaviour by one of his senior staffers.
Read more: Update on US visa interview appointment time in India and delays
Though the hold on his nomination had been lifted, he could not be confirmed by the last Congress.
"We will continue to seek the confirmation of Mayor Garcetti, who has - who was voted out of committee unanimously and with strong bipartisan support to serve as ambassador to India," Jean-Pierre said.
"And that's important, as we're talking about bipartisanship, as we're talking (about) how we're going to move forward. And this is what you saw with his particular nomination," she said.
"So, we see this as he is well qualified — Mayor Garcetti — to serve in this vital role. And we're hopeful that the full Senate will confirm him promptly," she added.