'They were stabbing everyone and shouted – This is for Allah': Witnesses recount London attack horror
People enjoying their evening out near the River Thames in London told of how their night became a nightmare in seconds as they witnessed the attack unfold near London Bridge and in Borough market.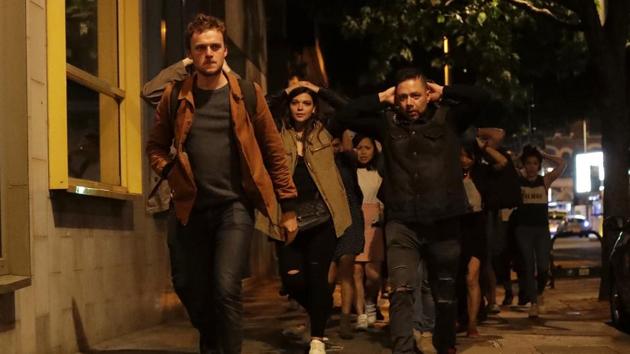 Updated on Jun 04, 2017 08:44 PM IST
"They kept coming to try to stab me. They were stabbing everyone. Evil, evil people," Gerard Vowls told a newspaper in the aftermath of a terror attack in central London on Saturday night.
Just minutes before terror struck, pubs in the popular Borough market were crammed with revellers enjoying a balmy summer night out in a trendy part of the city, many of them watching the Champions League final on big screens.
And then a van smashed into pedestrians and a stabbing rampage saw more bloodshed on the streets of the British capital. (UPDATES)
Police said seven people died and 20 were injured in the attacks, while police shot dead three suspects. The Metropolitan Police head of counter-terrorism, Mark Rowley, said police believe all of the attackers were killed, but investigations are underway to ensure there are no more.
People enjoying their evening out near the River Thames told of how their night became a nightmare in seconds as they witnessed the attack unfold.
Vowls told The Guardian newspaper that he saw a woman being stabbed by three men at the south end of London Bridge. He said he threw chairs, glasses and bottles at the attackers in a bid to stop them.
"They were stabbing everyone. They were running up and going 'This is for Allah'... I want to know if this girl is still alive. I've been walking around for an hour and a half crying my eyes out. I don't know what to do," he told BBC.
Another witness Eric told the BBC he had seen three men come out of a white van after hitting pedestrians and thought they were going to help.
But instead they "started kicking them, punching them and took out knives. It was a rampage really," he said, adding that he also heard a shout of: "This is for Allah".
Taxi driver Chris told LBC radio he saw men brandishing long knives emerging from the van.
"Three men got out with long blades, 12 inches (30 centimetres) long and went randomly along Borough High Street stabbing people."
The mayhem began just after 10 pm (2100GMT), when police responded to reports of a vehicle hitting pedestrians on London Bridge, which crosses the River Thames in central London. Multiple witnesses reported a vehicle veering off the road and hitting as many as six pedestrians.
Police held people inside bars and restaurants for their own safety as police cars screamed past.
They were later asked to leave with their hands on their heads.
Frightened people were led away as police officers screamed at them to run. Many were in tears, with friends supporting each other along the road.
Roads were closed off and stations evacuated as police shouted at people to flee the scene.
Bartender Alex Martinez said he hid in a garbage bin for a half hour when a man stormed the restaurant where he worked, which was nearly full.
"I saw that man with a knife in his hand and after that a man started screaming so I knew something wrong was happening," he said.
Medics treated the injured near the market as shocked people cried and shouted around them. Police officers yelled at people to run from the area.
Simon Thompson told Sky News that he was just outside Borough Market when he saw crowds fleeing.
"We ran for like 100 meters and then saw loads of police cars turned up and there was kind of a period of quite intense gunfire," he said. "I hid in a restaurant basement for about an hour. ... Police told us to get out and then there was more gunfire."
Another witness, who declined to be named, his white top covered in blood, described a scene of panic in the bar.
"They hit the emergency alarm. There was a line of people going down to the emergency exit. And then people started screaming coming back up," the 31-year-old said.
Another witness, who gave his name as Alessandro, also told BBC radio that he saw a van strike several people on London Bridge.
"I saw this van going left and right, left and right, trying to catch as many people as he could. And people just tried to get out of the way of the van.
"Then I tried to help people, wounded people."
Husband and wife Ben and Natalie told BBC Radio 5 Live they were outside Borough Market when they witnessed the incident there.
Ben said: "We saw people running away and then I saw a man in red with a large blade, at a guess 10 inches long, stabbing a man, about three times.
"It looked like the man had been trying to intervene, but there wasn't much he could do. He was being stabbed quite coldly and he slumped to the ground."
Ben said the man then walked towards the Southwark Tavern. He said they saw a metal chair being thrown towards the man.
"Then we heard three gunshots, definitely gunshots, and we ran."
As thousands of people flooded from the area of the attacks — many unable to get home with nearby subway stations shut — locals were quick to offer assistance.
The Royal Oak pub, near the area of the attacks, opened its doors to people evacuated from hotels. At least one taxi company offered free rides to people stranded in the area. Phaldip Singh, who describes himself as an entrepreneur and youth activist, tweeted that Sikh temples were open to provide food and shelter for those affected.
Close Story