Nepal ends India's monopoly on internet access with new Chinese link
Till Friday, landlocked Nepal was totally dependent on India for access to the worldwide web through connections at Biratnagar, Bhairahawa and Birgunj.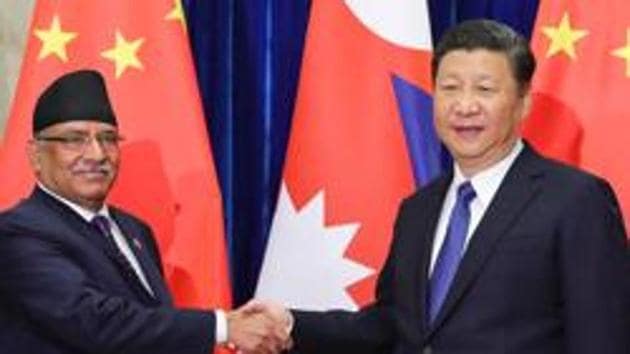 Updated on Jan 13, 2018 09:58 AM IST
Hindustan Times, Kathmandu |
, Kathmandu
Anil Giri
Nepal ended India's monopoly on internet access on Friday by opening a new optical fibre link across the Himalayan mountains to China.
Nepal's information and communication minister Mohan Bahadur Basnet and Chinese ambassador Yu Hong inaugurated the link during a ceremony in Kathmandu, reflecting China's growing engagement in a region seen as India's backyard.
Till Friday, landlocked Nepal was totally dependent on India for access to the worldwide web through connections at Biratnagar, Bhairahawa and Birgunj, for which it pays a substantial sum as fees and royalties. Besides state-run Indian firms, Nepal has been acquiring bandwidth from private players such as Tata and Airtel and BSNL
Nepal Telecom (NT), the government-owned telecom service provider, has now acquired bandwidth from China Telecom Global Limited, with its head office in Hong Kong. NT signed an agreement with the Chinese company in December 2016 to acquire bandwidth.
The Chinese optical fibre link enters Nepal at Rasuwa, 175 km north of the capital Kathmandu. A successful test of the link was conducted last week before it became operational on Friday.
"This will add new dynamics to Nepal-China ties," Basnet said while inaugurating the facility. He noted that infrastructure had also been created to extend the Chinese railway network to Nepal.
Ambassador Yu said China is the second largest investor in Nepal and also send many tourists to the country.
Kamini Rajbhandari, the general manager of NT, said, "Nepal's internet dependency on India has ended from today and we are able to diversify our business."
Nepal's has a 25-GBPS link with India while the Chinese link is 1.5 GBPS, comparatively slower than the Indian connection.
"We are connected with China at only one point now, which can be increased in the future," said Rajbhandari.
The cost of internet services will remain the same, officials said. NT spokesperson Prativa Baidhya declined to disclose details of the fees paid by Nepal to the Indian side or the new deal with China.
A report issued in October by the Nepal Telecommunications Authority, the regulator for the telecom sector, showed more than 61% of the country's population of more than 26 million is connected to the internet, mostly through mobile devices.
More than 6,500 new users are connected to the internet every day, the report said. A majority of people used the services of Nepal Telecom but its market share fell to 52.02% in the last fiscal, compared to 55.15% in the previous fiscal.
The internet was first introduced to Nepal in 1993 by a venture between the Royal Nepal Academy of Science and Technology (RONAST) and a private firm, the Mercantile Office Systems. The Indian Institute of Technology in Mumbai had a UNDP-funded internet connection and RONAST set up a system whereby it could connect to Mumbai to transfer email messages. The first optical fibre link to India was built four years later.
Service providers have said data use in Nepal has been increasing constantly with more people using social media platforms such as Facebook and Twitter and communication platforms such as Viber, Messenger, WhatsApp and WeChat, especially to communicate with family members abroad.
Nepal is largely dependent on India for economic, trade and transit activities. It was only in August 2016, after a prolonged blockade of the border with India, that Nepal forged a trade and transit treaty with China during the tenure of former premier KP Sharma Oli and imported fuel from the northern neighbour for the first time.
Close Story