New Zealand man's iPhone successfully 'writes' research paper on nuclear physics
Oct 26, 2016 01:42 PM IST
Christoph Bartneck wrote on his blog, "Today I received an invitation from the International Conference on Atomic and Nuclear Physics to submit a paper. Since I have practically no knowledge of Nuclear Physics I resorted to iOS auto-complete function to help me writing the paper. I started a sentence with "Atomic" or "Nuclear" and then randomly hit the auto-complete suggestions."
A New Zealand man, who was invited to submit a paper on nuclear physics despite having no knowledge of the subject succeeded -- using his iPhone's autocomplete function!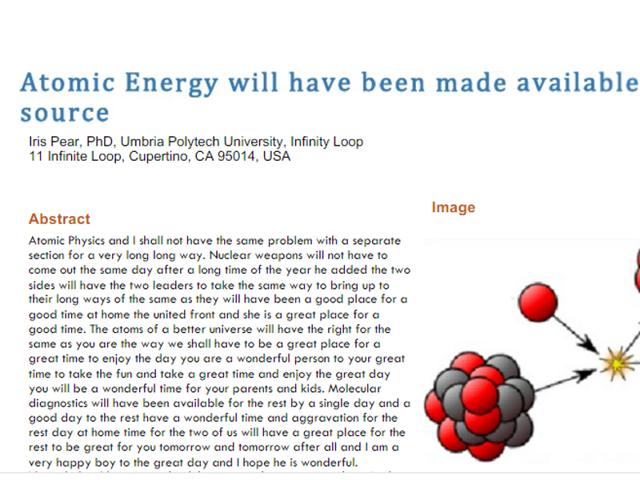 Christoph Bartneck wrote on his blog, "Today I received an invitation from the International Conference on Atomic and Nuclear Physics to submit a paper. Since I have practically no knowledge of Nuclear Physics I resorted to iOS auto-complete function to help me writing the paper. I started a sentence with "Atomic" or "Nuclear" and then randomly hit the auto-complete suggestions."
"The text really does not make any sense. I know that iOS is a pretty good software, but reaching tenure has never been this close."
A sample from the 'research paper' read, "The atoms of a better universe will have the right for the same as you are the way we shall have to be a great place for a great time to enjoy the day you are a wonderful person to your great time to take the fun and take a great time and enjoy the great day you will be a wonderful time for your parents and kids."
Bartneck titled his paper "Atomic Energy will have been made available to a single source" and furnished it with references and an image picked up from Wikipedia. He even crafted a fake identity for the submission: "Iris Pear", playing around with the words "Siri Apple".
His paper was accepted three short hours later. However, Bartneck told The Guardian that he'd have to pay US$ 1099 to go to the conference to speak about his 'research'.
"I did not complete this step since my university would certainly object to me wasting money this way. My impression is that this is not a particularly good conference," he said.
The International Conference on Atomic and Nuclear Physics will be held on November 17 and 18 in Atlanta, Georgia in the US.