On Chinese 'spy' balloon, Trump Jr. dig: 'Because boyfriend is no longer…'
Feb 05, 2023 09:15 AM IST
China said it was a weather research vessel blown off course, a claim rejected by US officials who said the craft had been over areas of Montana where nuclear missiles are siloed.
Former US President Donald Trump's eldest son and businessman Donald Trump Jr. took a veiled jibe at a prominent Democratic Congressman over the suspected Chinese surveillance balloon that was shot down by the US military on Saturday. Referring to a suspected Chinese intelligence operative who reportedly developed extensive ties with a US Congressman, Trump Jr. said China is looking for "other means to collect intelligence" as the spy's "boyfriend" was "no longer on House Intel".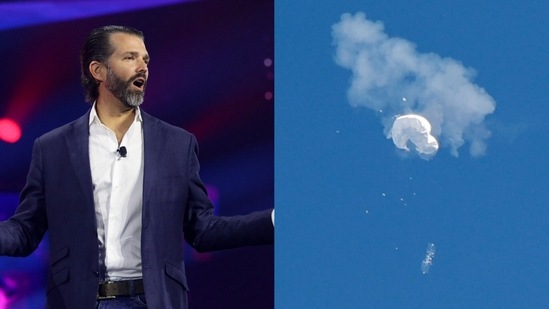 "You know why the Chinese are suddenly flying balloons over the continental US? Because Fang Fang's boyfriend is no longer on House Intel so they're left looking for other means to collect intelligence," he tweeted.
Watch | Videos capture the moment US fighter jet shot down Chinese 'spy' balloon
While Trump Jr. did not take any name, his tweet was apparently aimed at Eric Swalwell, a Democratic Congressman, whose alleged ties with a Chinese national named Fang Fang aka Christine Fang was reported first by Axios in 2020. Last month, Speaker Kevin McCarthy expelled Swalwell from the House Intelligence Committee, following through on his promise to unseat the progressive Democrat citing his association with a suspected Chinese spy who targeted US politicians.
The suspected surveillance balloon that had spent days flying above the United States was downed over its territorial waters on Saturday.
"Today's deliberate and lawful action demonstrates that President (Joe) Biden and his national security team will always put the safety and security of the American people first while responding effectively to the PRC's unacceptable violation of our sovereignty," Secretary of Defense Lloyd Austin said in a statement.
China had insisted that the balloon was a civilian airship primarily for meteorological purposes and had deviated from its planned course due to winds and "limited steering capability". China's foreign ministry blasted the US action in a statement Sunday morning, saying the downing of the "civilian" aircraft was "clearly overreacting and seriously violating international practice."