Pak warplanes take part in military drill amid tension with India
Pakistani warplanes landed on a highway linking Peshawar and Rawalpindi on Thursday as part of an exercise for which airspace was closed off in the country's north, sparking speculation that the armed forces were preparing for possible hostilities with India.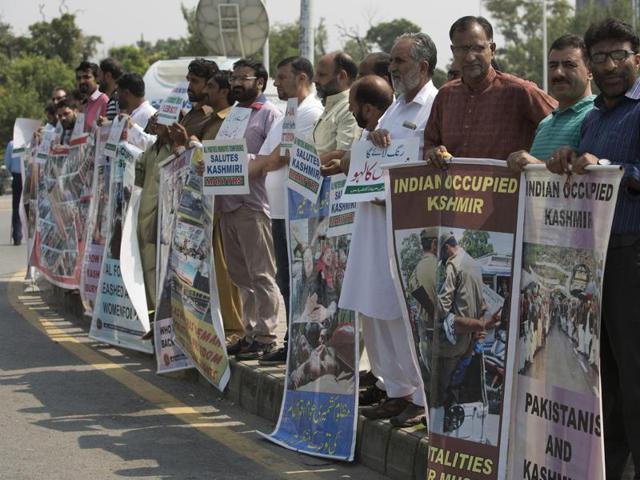 Updated on Sep 22, 2016 10:23 PM IST
Hindustan Times |
, Islamabad/new Delhi
Imtiaz Ahmad and Rezaul H Laskar
Rumours swirled of Pakistan's armed forces preparing for possible hostilities with India as combat jets participated in a wargame on Thursday, but analysts and commentators in Islamabad ruled out a military confrontation between the two sides.
A Pakistan Air Force (PAF) spokesman said F-7 and Mirage jets touched down on the M1 Motorway, a 155-km highway linking Peshawar and Rawalpindi, as part of the "Highmark" exercise. Pakistani social media users posted footage of a jet landing on the highway.
Despite officials insisting the exercise had been planned in advance, the closure of airspace and flights by combat jets fuelled rumours that the Pakistani military was preparing for a possible attack in the wake of the terror attack in Uri that killed 18 Indian soldiers.
Highmark, one of the largest wargames organised by the PAF, is expected to end on September 24. The exercise, coming at a time of heightened tensions between the two countries, also fuelled speculation on mainstream media.
Despite the talk of possible conflict, Pakistani analysts and commentators said a confrontation was unlikely.
"We are seeing a lot of tough talking but whether that translates into anything more substantial is doubtful," said leading analyst Lt Gen (retired) Talat Masood. India-Pakistan relations have settled into a "comfortable pattern" which usually have their high and low points, he said.
This time around, "the only fear was that India would want to break the pattern as there is intense pressure on the Modi government to not take the Uri attack lying down", he added.
The analysts also said common sense seems to have prevailed. "We are seeing a cooling of tempers," said journalist Mujibur Rehman. "But Pakistan needs to do something for face-saving of the Modi government."
The Express Tribune newspaper quoted a strategic assessment by Pakistani security agencies, which said that "when it comes to making major decisions like cross-border action, the Indians realise that if they attack Pakistan it does not play out in their favour".
TV news channels and social media reports had speculated that airspace restrictions over Gilgit-Baltistan and the M1 and M2 Motorways were part of Pakistan's preparations for possible hostilities, including surgical strikes. The government had also cancelled all civilian flights to Gilgit-Baltistan on Wednesday.
An unnamed senior military official rejected reports of a change in the alert level over the past few days and told the Dawn newspaper that "extreme vigilance" was being exercised in view of "current threats from India". The local media also quoted a senior PAF official who dismissed reports that the exercise was linked to the current tensions.
Some acknowledged that the worst is far from over. "The option before India is to pressure the US to take Pakistan to task," said Rehman. But he noted this is unlikely, given the deterioration of relations between Pakistan and the US.
Close Story