Pakistan called 'bonsai democracy' in London seminar
Speakers at a seminar in London criticised Pakistan's armed forces and the judiciary for hampering the growth of democracy in the country.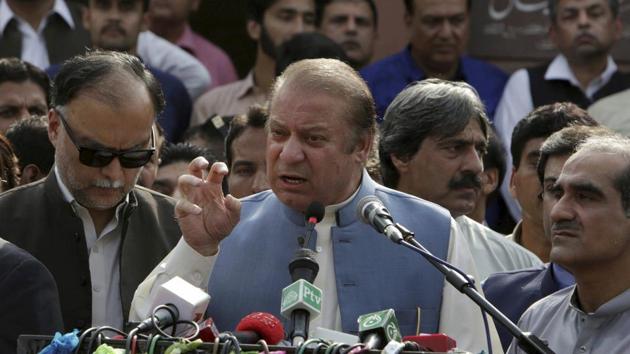 Published on Aug 18, 2017 06:56 PM IST
The recent removal of Nawaz Sharif as prime minister was seen as another example of Pakistan allegedly having a "bonsai democracy" at a seminar here that was addressed by academics from Britain and the United States.
The event organised on Thursday by the Democracy Forum saw robust exchanges between speakers and a section of the audience that opposed viewing Pakistan in critical terms. The forum is headed by Charles Bruce (Liberal Democrats), a member of the House of Lords.
Farzana Shaikh, a Pakistani-origin fellow at the Royal Institute of International Affairs, described Pakistan as a "bonsai democracy" or a state restricted by its environment: "Nowhere has this been more keenly felt in recent times than in the dismissal of Nawaz Sharif."
According to Christine Fair, associate professor at Washington's Georgetown University, Sharif was ousted in a "judicial coup". She did not see the Pakistani judiciary as independent, but as "a new condominium emerging" between the army and the Supreme Court.
"The army has to develop new tools to keep pruning the grass of democracy, to prevent it from taking root in Pakistan," she added.
Sharif was disqualified by the Supreme Court last month for being dishonest while declaring his assets. The court gave its ruling in the Panama Papers case after a joint investigation team probed the Sharif family's assets.
Lawrence Sáez of the School of Oriental and African Studies (SOAS) said he "initially considered the ousting of the corrupt Nawaz Sharif as a positive step", but had since revised the view "since it increased unaccountability in Pakistan".
Burzine Waghmar, also based at SOAS, highlighted the alleged complicity of Pakistan's deep state with the "pick up and dump routine" while trying to suppress the freedom struggle in Balochistan province.
Marie Carine-Lall of London University's Institute of Education user her research to say: "Democracy does not seem to be the system of choice among the young in Pakistan and there is a tendency towards a pro-order and/or pro-army view, especially among the more educated youth."
Close Story
Personalise your news feed. Follow trending topics