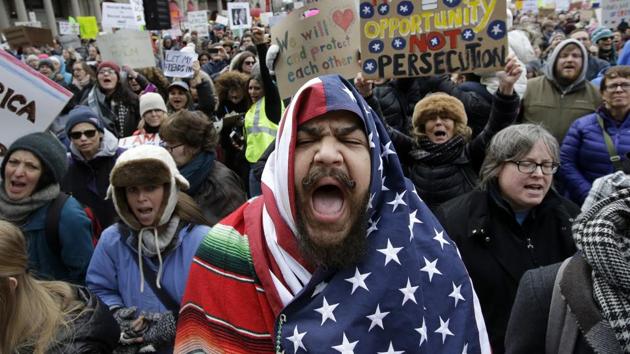 Pakistanis angered by US official's remarks about inclusion in visa ban
Pakistan's people and politicians have reacted with fear and concern to a top White House official's remarks that their country could be included in list of countries from where immigration to the US has been banned.
Hindustan Times, Islamabad | By Imtiaz Ahmad
UPDATED ON JAN 30, 2017 10:56 PM IST
A top White House official's comments hinting at Pakistan being included in the list of countries from where immigration to the US has been banned has sparked fears and anger among the people and politicians of the country.
US President Donald Trump issued a controversial executive order banning immigration from seven Muslim-majority countries – Iran, Iraq, Libya, Sudan, Yemen, Syria and Somalia. He also said in an interview that citizens of Afghanistan, Pakistan and Saudi Arabia would face "extreme vetting".
White House chief of staff Reince Priebus told CBS News the seven countries were chosen because they were "most identifiable with dangerous terrorism" and added: "Now, you can point to other countries that have similar problems, like Pakistan and others. Perhaps we need to take it further. But for now, immediate steps…is to do further vetting for people travelling in and out of those countries."
Some politicians in Pakistan see the ban as part of Trump's overt "Anti-Muslim" policies.
"What is clear is that Donald Trump is targeting Muslims, not terrorists," Pakistan People's Party lawmaker Khursheed Shah, the leader of opposition in Parliament, told reporters in Islamabad.
Pakistan Tehreek-e-Insaf (PTI) chief Imran Khan said he hoped the US will slap a visa ban on Pakistanis so that people here could focus on their own country. "I pray that Trump stops giving us visas because then we will try fixing our own country," the cricketer-turned-politician said while addressing a gathering in Sahiwal on Sunday.
"The prime minister goes abroad even if he gets a headache. If (the ban) happens, we will have to improve Pakistan and stand on our own feet," he said.
Pakistan's Foreign Office criticised the process of vetting based on religion and warned that such a move could be counter-productive in the long term.
Priebus said the executive order was signed after a lot of planning. "These are countries that harbour and train terrorists. These are countries that we want to know who is coming and going in and out of to prevent calamities from happening in this country," he said.
"Some people have suggested, that, well, maybe we should have given everyone a three-day warning. But that would just mean that a terrorist would just move up their travel plans by three days. Identifying too many people in these countries and giving them a heads-up in these countries would only potentially flag the executive order for bad order," he added.
Priebus acknowledged that the visa restrictions could come up when Trump speaks to the leaders of Saudi Arabia, the United Arab Emirates and other countries.
Close