Pervez Musharraf, ex-Pakistani ruler who masterminded Kargil war, dies | 5 points
Feb 05, 2023 12:03 PM IST
Pervez Musharraf dies: Musharraf had deposed then Pakistan prime minister Nawaz Sharif in October 1999 in a bloodless coup and took over as the chief executive of Pakistan. In 2001, he appointed himself as the president of Pakistan and occupied the post till 2008.
Former Pakistan president Pervez Musharraf on Sunday passed away at the age of 79. He had been undergoing treatment at a hospital in Dubai for quite a long time. Musharraf, who was the architect of the 1999 Kargil War, had taken over as the chief executive of Pakistan after ousting Nawaz Sharif. In 2001, he appointed himself as the president and went on to rule the Islamic Republic till 2008.

Here are five things to know about him:

1. Musharraf was born on August 11, 1943 in Delhi. He moved to Karachi with his family when Pakistan was carved out of India following independence from British Rule.

2. He joined the Pakistan Army in 1964 and graduated from the Army Command and Staff College in Quetta, and attended the Royal College of Defence Studies in London.

3. In 1998, the then Pakistan prime minister Nawaz Sharif appointed Pervez Musharraf as the Pakistan Army chief. His elevation as the four-star general was not without controversies as his promotion superceded two officers senior to him.

4. Musharraf was the architect of Kargil war, which the Indian and Pakistani forces fought in 1999. From March to May, he had ordered the infiltration of Pakistan Army's Northern Light Infantry to capture strategic posts in Kargil, J&K. On discovering the infiltration, the Indian Army launched Operation Vijay to reclaim the posts from Pakistani control.

5. Due to international pressure, Nawaz Sharif was forced to order a pull out of Pakistani forces from Kargil heights, angering the army. On October 12, 1999, Sharif dismissed Musharraf as the army chief while the latter's plane was about to land in Pakistan. The Pakistani army under Musharraf staged a bloodless coup, taking control of airport and radio station. The Army chief took over as chief executive of Pakistan and deposed Sharif. Following Rafiq Tarar's resignation, Musharraf appointed himself as the President of Pakistan in 2001 and held the post till 2008.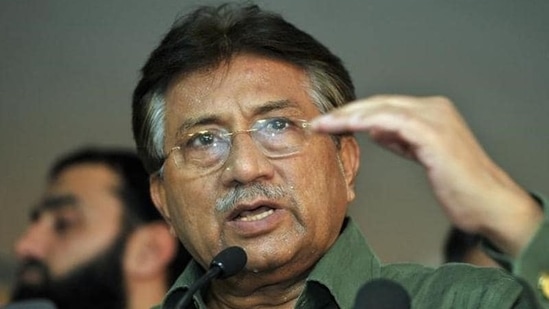 Topics