Pervez Musharraf, former Pakistani president and army general, dies at 79
Feb 05, 2023 01:13 PM IST
Pervez Musharraf had been undergoing treatment for an ailment at an American Hospital Dubai.
Pervez Musharraf, former president general (retired), on Sunday died in a Dubai hospital, the country's army said. He was 79. Musharraf had been undergoing treatment for an ailment at an American Hospital Dubai.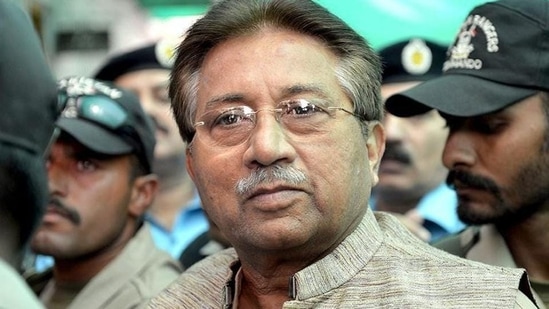 Senior military chiefs "express heartfelt condolences on sad demise of General Pervez Musharraf", a brief statement released by the military's media wing said. "May Allah bless the departed soul and give strength to bereaved family."
President Arif Alvi expressed his grief as he offered his condolences to the bereaved family, the President's secretariat said in a press release.
The president also prayed for the high ranks of the departed soul and for the bereaved family to bear the loss with fortitude.
Musharraf was born on August 11, 1943, in Delhi and completed his early education at St Patrick's High School in Karachi. The former president pursued higher education at Forman Christian College in Lahore.
Musharraf has been declared a fugitive in the former prime minister Benazir Bhutto murder case and Red Mosque cleric killing case. The former president, living in Dubai since 2016, was facing the treason case for suspending the Constitution in 2007.
The former military ruler had left for Dubai in March 2016 for medical treatment and had not returned since.
Musharraf had been hospitalised due to complications arising of the medical condition he is suffering from called amyloidosis, his family had informed in a Twitter message.
A rare disease, amyloidosis leads to abnormal deposition of some forms of proteins in various body tissues leading to organ damage.
Musharraf rose to national prominence after prime minister Nawaz Sharif promoted him to four-star general in 1998, making Musharraf the head of the armed forces. He led the Kargil infiltration, which triggered a war between India and Pakistan in 1999.
In 2020, the Lahore High Court declared "unconstitutional" all actions taken by the Nawaz Sharif government against Musharraf, including the filing of a complaint on high treason charge and the formation of a special court as well as its proceedings, leading to the abolition of the death penalty handed down to him by the trial court.
In 2019, a special court sentenced him to death. Musharraf came to power in a bloodless coup in 1999, deposing the then PM Nawaz Sharif. Facing impeachment following elections in 2008, Musharraf was forced to resign as president and went into self-imposed exile in Dubai.