Qantas plane lands safely at the Sydney Airport after it issued mayday call
Jan 18, 2023 10:25 AM IST
Qantas Flight Engine Failure: Emergency crews are on standby at the Sydney airport for when the plane lands. Fire, police and ambulance personnel are on site as a precautionary measure.
A Qantas flight from New Zealand landed at Sydney airport, according to tracking service Flightradar24, news agency Reuters reported. The flight had earlier issued a distress signal, authorities said.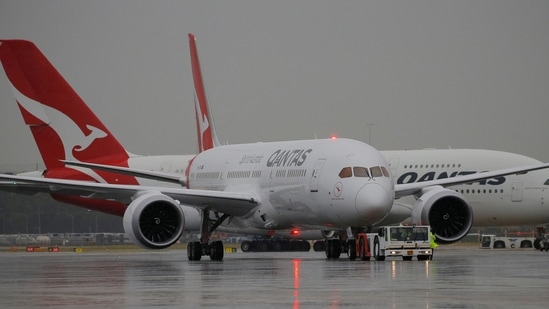 A New South Wales state ambulance spokesperson said that it was on standby at the airport after the flight had issued a distress signal. An airport spokeswoman said the QF144 flight, a Boeing 737-838 from Auckland, had issued a mayday alert.
12 fire trucks were on standby as a precaution before the plane was due to land, the official informed.
The distress signal was issued as Qantas flight 144 was approaching Sydney airport on Wednesday afternoon and was scheduled to land at about 3.30pm. It left Auckland an hour late about 2.30pm local time.
The aircraft is capable of landing with one engine, Guardian reported. Flight radar data shows the plane lost altitude and speed less than one hour after taking off.