Ukraine demands ceasefire & safe evacuation of citizens during talks with Russia
Published on Mar 03, 2022 05:41 PM IST
The Russian foreign ministry said it hoped the talks would restore peace in Donbass and enable all people in Ukraine to return to peaceful life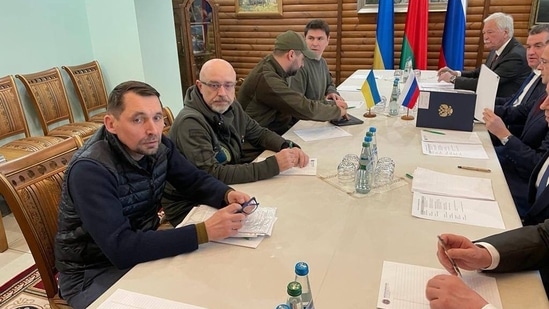 Ukraine on Thursday demanded a ceasefire and humanitarian corridors to evacuate stranded citizens during the talks with Russian delegations at Belarus. The talks are being amid Russian forces surrounding and bombarding Ukrainian cities. Ukrainian president's adviser Mikhail Podolyak tweeted a picture of him with other negotiators at an undisclosed location. "Start talking to Russian representatives. The key issues on the agenda: Immediate ceasefire, armistice and humanitarian corridors for the evacuation of civilians from destroyed or constantly shelled villages/cities," he tweeted.
Earlier, the Russia's foreign ministry tweeted. "Direct talks between Russian and Ukrainian representatives are underway on Belarusian territory. We hope that they bring about an end to this situation, restore peace in Donbass and enable all people in Ukraine to return to peaceful life," the ministry said.
The talks are being held amid ferocious fighting between the two forces which has entered the eighth day. The British military has claimed that Russia has made little progress during invasion of Ukraine. Besides Kherson, it has not been able to achieve a breakthrough in its march to Kyiv.
The cities of Kharkiv, Chernihiv and Mariupol continue to remain under Ukraine's control. "The main body of the large Russian column advancing on Kyiv remains over 30 km (19 miles) from the centre of the city having been delayed by staunch Ukrainian resistance, mechanical breakdown and congestion," Britain's defence ministry said in an intelligence update."
In the northwest of Kyiv, a small town Borodyanka witnessed locals repelling a Russian assault. Burnt out hulks of a destroyed Russian armour was scattered in a highway. Flames from one burning apartment building lit up the pre-dawn sky. A dog barked as emergency workers walked through the rubble in the darkness.
However, the United Nations said more than 1 million refugees have fled the war-torn country.

(With inputs from Reuters)
Personalise your news feed. Follow trending topics