Taliban seek support of China for expanding footprint in Afghanistan
Published on Jul 28, 2021 02:32 PM IST
A nine-member delegation led by Taliban leader Mullah Baradar Akhund met Chinese Foreign Minister and State Councilor Wang Yi on Tuesday. The Taliban leader assured Beijing that they will not allow Afghanistan to be used against security of any country.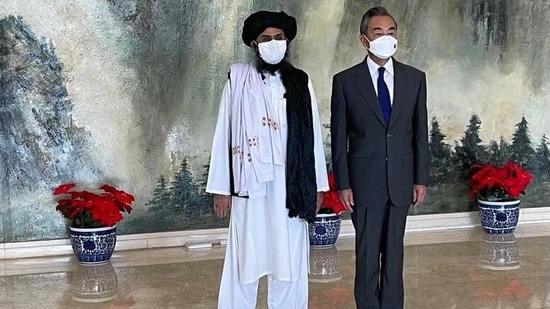 With frontline Taliban leader Mullah Baradar Akhund meeting Chinese foreign minister Wang Yi on July 27, the conservative Sunni Islamist group is seeking support of Beijing to expand its footprint in Afghanistan after assuring the middle-kingdom that Afghanistan under Taliban will not allow its territory to be used by terrorists to target any third country. The assurance was given by Mullah Barader as Beijing is worried that Uighur extremist movement may get shelter in Emirate of Afghanistan through the Wakhan corridor.
Mullah Baradar travelled to China for two days as the head of a high-ranking delegation of nine people and held separate meetings with Wang, China's deputy foreign minister and Chinese special representative for Afghanistan, the Taliban said in a statement.
"The meetings focused on political, economic and security issues related to the two countries, the current situation in Afghanistan and the peace process," the statement added.
By reassuring Beijing that it will not allow the Afghan territory to be used against any third country, the Taliban are trying to allay global fears that Pakistan-based terror groups and pan-Islamic groups like Al Qaeda will not use the civilian strife in Afghanistan to establish terror training camps for targeting countries opposed to radical Islam. During its first term in power between 1996-2001, the Taliban gave shelter to majority of pan-Islamic terrorist groups like Al Qaeda, Harkat-ul-Ansar, HuJI Bangladesh, held training camps for Pakistan-based groups like Lashkar-e-Taiba and virtually sponsored global jihad around the world.
The Taliban delegation also thanked China for its continued cooperation with the people of Afghanistan, especially its continued cooperation in the fight against the coronavirus disease (Covid-19).
According to Afghanistan watchers, the Taliban, with support of their handlers Pakistan, are seeking assurance from China to help them establish an emirate in Afghanistan lest US has second thoughts on the Sunni group after reports of large numbers of civilian casualties.
The US has already declared that it will leave Afghanistan on August 31. "While Pakistan is trying to leverage its influence on Taliban to get close to revive its ties with the US, the Sunni Islamist group is piggybacking on Islamabad to strengthen its ties with China. The Chinese, on their part, are looking towards expanding the Belt and Road initiative into Afghanistan and thereon to Central Asia for taking a grip on bilateral trade with Afghanistan and exploiting resources like coal, copper and iron ore in that country," said diplomats based in US and India.
China wants to use Afghanistan as a route to Central Asian republics of Tajikistan, Turkmenistan, Uzbekistan and Kazakhstan.
Personalise your news feed. Follow trending topics