This demonetisation didn't go well: Venezuela delays scrapping 100 bolivar notes
Dec 18, 2016 05:35 PM IST
With protests rocking his unpopular government, embattled President Nicolas Maduro delayed until January 2 taking Venezuela's highest denomination bill out of circulation.
With protests rocking his unpopular government, embattled President Nicolas Maduro delayed until January 2 taking Venezuela's highest denomination bill out of circulation.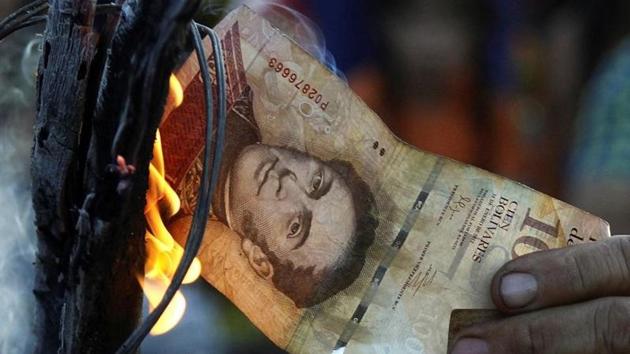 The 100 bolivar bills would temporarily remain legal tender, Maduro said Saturday, but the borders with Colombia and Brazil will remain closed to hit what he claims are "mafias" hoarding Venezuelan cash abroad in a US-backed plot to destabilise the country.
Stay tuned with breaking news on HT Channel on Facebook.
Join Now
"You can calmly continue to use the 100 bill for your purchases and your activities," Maduro said at a meeting with officials broadcast on state television.
The bill is worth about 15 US cents at the highest official rate, and until recently accounted for 77% of the cash in circulation in Venezuela.
Venezuela has the world's highest inflation rate, set to hit 475% this year according to the IMF.
The government is trying to introduce new bills in denominations up to 200 times higher than the old ones, but the plan derailed when Maduro banned the 100 bolivar note before the new bills arrived.
Four air planes with the new currency set to arrive from abroad were delayed by international sabotage, Maduro said. He did not say where the money was coming from, or what type of sabotage.
Venezuelans stood in long lines at banks all week to meet a Friday deadline to exchange their currency. When the deadline extension was announced, people queued up again on Saturday.
"I don't agree with this, I've had to come all the way here with my miserable amount of cash to the BCV [Venezuelan Central Bank] in order to get money to eat. This is madness, I'm tired of it," said Bismary Rivero, a 39 year-old homemaker, told AFP.
Rivero said that she travelled 450 kilometres from her village in the eastern state of Monagas to exchange her money.
In a country with one of the highest rates of violent crime in the world, shoppers must carry unwieldy wads of bills to pay for their purchases.
Retirees had complained for months that their pensions were paid in unmanageable 50- and 20-bolivar denominations.
Rioting and angry protests erupted in several Venezuelan cities as the chaotic reform left people without cash to buy food or Christmas presents.
Opposition politicians said on Saturday that four people were killed in rioting in the capital of the southern state of Bolivar, though officials have not confirmed those figures.
Unrest however was such that the Ciudad Bolivar mayor ordered a curfew banning "motorcycles, pedestrians and private vehicles" until late Monday.
The pro-Maduro state governor, Francisco Rangel Gomez, said on Twitter that 135 people were arrested for looting, and that soldiers were deployed "to re-establish order."
In Guasdalito, in the central-western state of Apure, three state bank offices were torched, an incident Maduro late Friday blamed on unnamed opposition politicians.
Maduro has presided over an unraveling of Venezuela's oil-rich economy as crude prices have plunged. He and predecessor Hugo Chavez have made the economy increasingly state-led.
Now the import-dependent country is desperately short of food, medicine and basic household goods.
A recession driven by plunging prices for Venezuela's crucial crude oil exports has led to shortages of food and medicine.
Citizens face long queues to buy basic supplies and inflation has soared. Deadly riots and looting have broken out over recent months.
Analysts have warned there is a risk of unrest in Venezuela, which Human Rights Watch says is in the grips of a "humanitarian crisis." Anti-government protests in 2014 led to clashes that left 43 people dead.