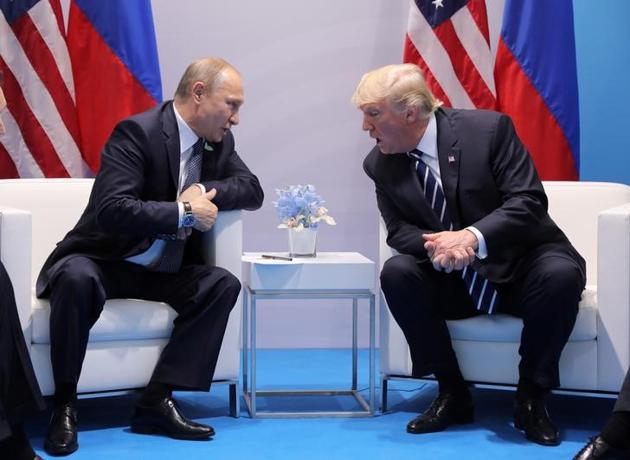 Trump invited Putin to White House during congratulatory call in March: Kremlin
On March 20, Trump called Putin to congratulate him on his re-election, and the US leader told reporters afterwards that the two would "probably get together in the not-too-distant future."
Hindustan Times, Washington | By Yashwant Raj
UPDATED ON APR 02, 2018 11:48 PM IST
President Donald Trump had suggested the White House as a venue for a meeting with President Vladimir Putin in a phone call in March in which he had also congratulated the Russian leader on his re-election, ignoring advice from his aides.
"As the President himself confirmed on March 20, hours after his last call with President Putin, the two had discussed a bilateral meeting in the 'not-too-distant future' at a number of potential venues, including the White House," White House Press Secretary Sarah Sanders said in a statement, after a Kremlin aide first spoke of it in Moscow.
"When our presidents spoke on the phone, Trump suggested having the meeting in Washington at the White House," Kremlin foreign policy aide Yuri Ushakov told reporters on Monday. "This is quite an interesting, positive idea."
No follow-up action took place, however, and days after the United States and its allies expelled more than 100 Russian intelligence officers and diplomats over the poisoning of a former Russian spy in Britain. Moscow threw out an equal number of personnel from these countries in retaliation.
"I hope the Americans won't abandon their proposal to discuss the possibility of holding the summit," Ushakov said.
After that call on March 20, President Trump had told reporters that he "will be seeing President Putin in the not-too-distant future". But he had not indicate a place or time, and neither had the White House.
President Trump was widely criticised for congratulating President Putin and it was later reported that he had gone against the advice of his National Security Council advisers who had scribbled "do no congratulate" in hand on the briefing material given to him before the call.
"I called President Putin of Russia to congratulate him on his election victory (in past, Obama called him also)," Trump wrote on Twitter defending his call, referring to a similar call from his predecessor President Barack Obama earlier.
"The Fake News Media is crazed because they wanted me to excoriate him. They are wrong! Getting along with Russia (and others) is a good thing, not a bad thing," he continued, arguing Russian can help solve North Korea, Syria and other issues.
"Bush tried to get along, but didn't have the "smarts." Obama and Clinton tried, but didn't have the energy or chemistry (remember RESET). PEACE THROUGH STRENGTH!," he added.
Close