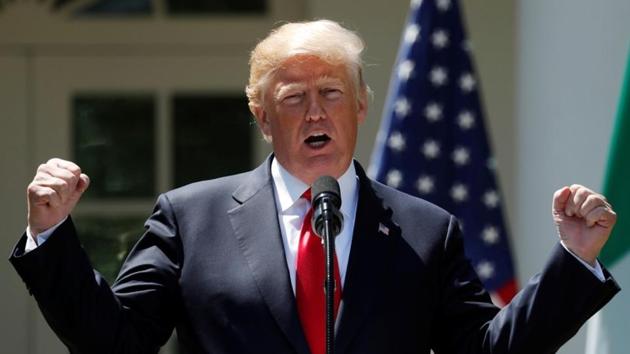 Trump won't apologise for campaign-era call to ban Muslims from entering US
US president slammed current immigration laws, terming them "a total disaster","weak", "pathetic" and "obsolete".
PUBLISHED ON MAY 01, 2018 10:59 AM IST
United States President Donald Trump has declined to apologise for his campaign-era proposal to ban all Muslims from America, saying "there's nothing to apologise for", media reports said.
"There's no reason to apologise," Trump said on Monday during a joint news conference alongside the Nigerian President when asked if he would apologise for his call during the 2016 presidential campaign for a "total and complete shutdown of Muslims entering the US".
"There's nothing to apologise for. We have to have strong immigration laws to protect our country."
Trump's refusal to apologise for or rescind his calls during the 2016 campaign for banning all Muslims from entering the US has been repeatedly cited during court cases concerning the travel ban he put in place last year, reports CNN.
Trump said he did not believe an apology would change the course of the legal case. He continued to slam current US immigration laws during the conference on Monday.
"Our immigration laws in this country are a total disaster. They're laughed at all over the world."
He also derided the laws as "weak", "pathetic" and "obsolete".
"Just look at our southern border and look at our weak and obsolete immigration laws. And they are obsolete and they are weak and they are pathetic," Trump said.
"And there's no country in the world that has laws like we do and they've got to change and they've got to change now for the safety of our country."
Trump's comment came as he discussed loopholes in US immigration laws that he said can be exploited by terrorists and traffickers, CNN reported.
Close