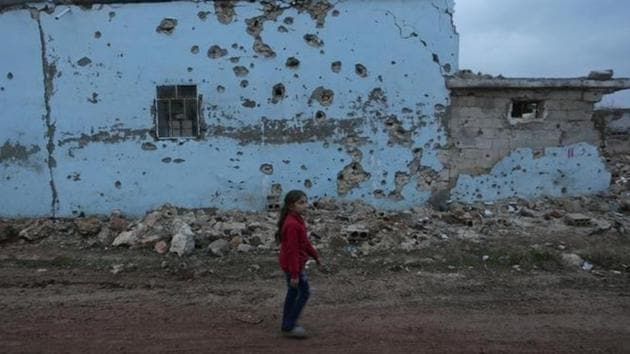 Turkey, Russia to implement Syria ceasefire before New Year: Turkish minister
The ceasefire could be put in place "at any moment", Turkish foreign minister Mevlut Cavusoglu said.
UPDATED ON DEC 29, 2016 02:22 PM IST
Turkey and Russia are planning to implement a countrywide ceasefire in Syria before the start of the New Year, Turkish foreign minister Mevlut Cavusoglu said on Thursday.
The ceasefire could be put in place "at any moment", the minister said after reports that Turkey and Russia had agreed on a deal. "We are planning to secure this before the beginning of the New Year," he added.
The Aleppo truce was brokered by Turkey and Russia earlier this month to allow the evacuation of civilians and was hailed as a major turning point in the nearly six-year war.
The incoming UN secretary general Antonio Guterres had said the conflict had become "a cancer on a global scale", urging Washington and Moscow to overcome their differences to end the crisis.
Read: Russia, Turkey agree ceasefire plan for all of Syria: Media reports
The Turkish state-run Anadolu news agency said if successfull, the latest proposal will form the basis of political negotiations between Damascus and the opposition overseen by Russia and Turkey in the Kazakh capital Astana.
Ankara has hosted a series of closed-door talks between Russia and Syrian opposition rebels in recent weeks.
Ankara and Moscow have been on opposing sides in Syria's war, with Turkey seeking the removal of President Bashar al-Assad, who is backed by Russia and Iran.
But they have recently started to cooperate more closely on Syria, especially after a deal to normalise ties battered by Turkey's shooting down of a Russian warplane last year.
Turkey remained conspicuously quiet as Assad's forces, backed by Russia, took control last week of Aleppo in the biggest rebel defeat so far.
Previous ceasefire plans brokered by US secretary of state John Kerry and Russian counterpart Sergei Lavrov failed to stem the violence.
Syria's conflict began with a 2011 uprising against Assad but quickly morphed into a complicated civil war that has now killed more than 310,000 people and forced millions more from their homes.
Scathing attacks
Erdogan on Tuesday launched one of his most bitter attacks on US and Western policy in Syria.
He accused the West of not just supporting a Kurdish militia that Ankara regards as a "terror group" but even backing Islamic State group jihadists.
In an angry statement, the US embassy in Ankara said: "Assertions that United States government is supporting (IS) are not true."
Meanwhile, air strikes carried out by unidentified aircraft killed at least 22 civilians, including 10 children, in an IS-held village in the eastern Deir Ezzor province, the Syrian Observatory for Human Rights said.
Close