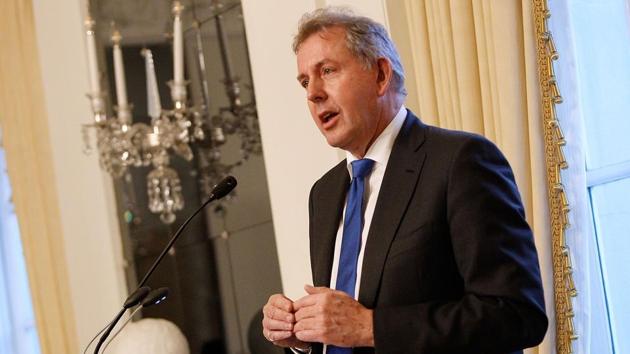 UK ambassador to US quits days after leaked cables on Donald Trump
Kim Darroch, who was branded "a very stupid guy" by Trump in Twitter tirades, said he wanted to put an end to speculation. The row raised questions over the ability of diplomats to report candidly to their capitals.
UPDATED ON JUL 10, 2019 08:00 PM IST
Kim Darroch, Britain's ambassador to the US who termed President Donald Trump's administration "inept, insecure and incompetent" in leaked emails and was in turn branded by the latter as "a very stupid guy", resigned on Wednesday.
The envoy's emails dated 2017 were leaked to the Mail on Sunday, sparking an unseemly diplomatic row between the two countries that often highlight their 'special relationship'.
The row raised questions over the ability of diplomats to report candidly about their host countries to their capitals.
Prime Minister Theresa May and foreign secretary Jeremy Hunt backed Darroch, as Trump launched Twitter tirades against him, but the failure of prime ministerial candidate Boris Johnson to back him during a TV debate on Tuesday is said to have been the tipping point.
Darroch wrote to the Foreign Office: "Since the leak of official documents from this Embassy there has been a great deal of speculation surrounding my position and the duration of my remaining term as ambassador".
"I want to put an end to that speculation. The current situation is making it impossible for me to carry out my role as I would like. Although my posting is not due to end until the end of this year, I believe in the current circumstances, the responsible course is to allow the appointment of a new ambassador".
May informed MPs in the House of Commons that said she had spoken to Darroch and told him it was "a matter of great regret that he has felt it necessary to leave his position…Good government depends on public servants being able to give full and frank advice".
Labour leader Jeremy Corbyn called the treatment of Darroch "beyond unfair and wrong," adding, "the whole house should join together in deeply regretting the feeling he's got that he must resign at this moment".
Foreign secretary Jeremy Hunt said: "I am deeply saddened…(he) served his country with the utmost dedication and distinction…I am sure that our ambassadors worldwide will continue to provide the objective and rigorous reporting that the Foreign and Commonwealth Office has always prized".
In the widely published emails, Darroch called the White House under Trump "dysfunctional" and "divided", but also informed the London headquarters that the US President should not be written off.
He wrote that to get through to Trump "you need to make your points simple, even blunt", wondering whether the Trump White House "will ever look competent".
"We don't really believe this administration is going to become substantially more normal; less dysfunctional; less unpredictable; less faction-riven; less diplomatically clumsy and inept," Darroch wrote.
According to him, Trump's presidency could "crash and burn" and "end in disgrace", the tabloid reported, adding the cables were dated early 2017.
Close