US-Bangla plane crash in Kathmandu: The world's deadliest air disasters in the last decade
Mar 12, 2018 06:11 PM IST
The US-Bangla air craft crashed while landing at the Kathmandu's Tribhuvan International Airport airport. Here's a list of some of the deadliest air crashes the world has seen in the last decade.
At least 50 people were killed after a US-Bangla Airlines flight crashed while landing at the Tribhuvan International Airport in the Nepalese capital Kathmandu on Monday.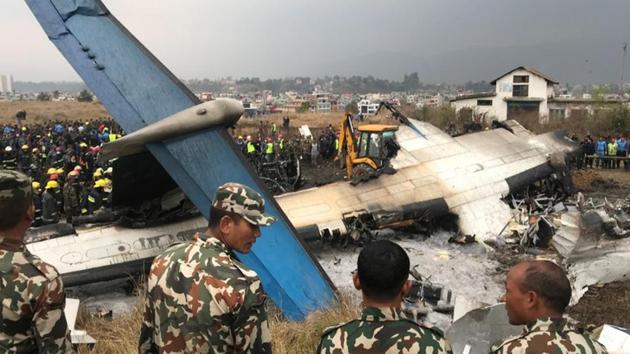 The plane, which had 71 people on board, skidded off the runway and careened into a football field as it was trying to land. Authorities said the fire in the plane is under control and rescue operations are underway.
Here are some of the world's deadliest plane crashes in the last decade:
February 18, 2018: All 65 passengers and crew were feared dead in a plane crash in central Iran, after the domestic flight came down in bad weather in a mountainous region.
February 11, 2018: A Russian passenger plane carrying 71 people crashed outside Moscow after taking off from the capital's Domodedovo airport, killing everyone on board. News agencies said witnesses in the village of Argunovo saw a burning plane falling from the sky.
December 25, 2016: A Russian military plane carrying 92 people, including dozens of Red Army Choir singers, dancers and orchestra members, crashed into the Black Sea on its way to Syria, killing everyone on board.
May 19, 2016: An EgyptAir jet carrying 66 passengers and crew from Paris to Cairo disappeared from radar over the Mediterranean Sea after swerving in mid-air and plunging from cruising height. French President Francois Hollande confirmed the aircraft "came down and is lost".
October 31, 2015: Russian airline Kogalymavia's Airbus crashes over central Sinai. All 224 on board killed.Russia said on 17 November that a "terror act" was responsible for the crash and that "traces of foreign explosives" were found on debris of the Airbus, reported the BBC.
June 30, 2015: Indonesian Hercules C-130 military transport plane crashes in Medan two minutes after take-off. All 122 people on board, including service men and their families, and at least 19 people on the ground died.
March 24, 2015: Pilot deliberately crashes Germanwings Airbus in French Alps. Andreas Lubitz, the co-pilot, was 'depressed' during pilot training, said sources, and was on anti-depressants. All 148 people on board died.
December 28, 2014: AirAsia flight goes missing over the Java Sea in bad weather. There were 162 passengers and crew on board. It was later reported that the flight crashed into the Java Sea and debris from the crash as well as human remains were recovered from the sea.
July 24, 2014: Air Algerie flight AH 5017 goes missing over Mali with 116 on board, feared to have crashed in violent storm. The plane took off from Burkina Faso and was headed to Algiers, when it crashed.
July 14, 2014: A Malaysia Airlines flight crashed in the region of Donetsk, the focal point of fighting between pro-Russian separatists and Ukraine. All 283 passengers and 15 crew members died.
March 8, 2014: Beijing-bound Malaysia Airlines flight with 239 on board — including five Indians — went missing over the South China Sea. On March 24, Malaysia declared missing MH370 'lost'.
June 3, 2012: Dana Air MD-83 jet crashes into residential area of Nigeria's largest city, Lagos, killing all 153 people aboard.
April 20, 2012: Bhoja Air Boeing 737 crashes in wheat fields near Islamabad, Pakistan while trying to land during thunder storm, killing 127 people.
Jan 9, 2011: Iran Air Boeing 727 breaks to pieces on impact in northwestern Iran. 77 dead.
July 28, 2010: July 28, 2010: Airbus 321 flying from Karachi crashes into hills outside Islamabad, all 152 on board dead
May 22, 2010: Air India Express Boeing 737 crashes in Mangalore airport killing 158. The aircraft, which was coming from Dubai, overshot the runway on landing, fell over a cliff, and caught fire. Out of 160 passengers and six crew members, only eight survived, making this the third-deadliest crash India has seen.
May 12, 2010: Afriqiyah Airways plane en route to Tripoli, Libya, from Johannesburg, South Africa, crashes into the desert less than a mile from the runway, killing 103 people.
April 10, 2010: The plane of Polish President Lech Kaczynski crashes outside the western Russian city of Smolensk, killing all 96 aboard.
July 15, 2009: 168 killed in Iran plane crash, after a Caspian Airlines Flight 7908 flight from Tehran to Armenia crashed in a village off north-western Iran.
June 30, 2009: Yemenia Airbus 310 en route to the Comoros Islands crashes into the Indian Ocean with 153 people on board, after encountering bad weather.
June 1, 2009: Air France Airbus A330 runs into thunderstorms and crashes into Atlantic Ocean en route from Rio de Janeiro to Paris, killing 228 people on board.