US House backs committee focused on tackling threats from China
Jan 11, 2023 09:14 PM IST
The overwhelming 365-65 bipartisan vote marked a rare area of agreement between Republicans and Democrats at the start of divided government in Washington
Washington: In a divided US House of Representatives just emerging from a bruising election for the speaker, Republicans and Democrats came together on Tuesday to vote on the one issue that unites the American political class: China.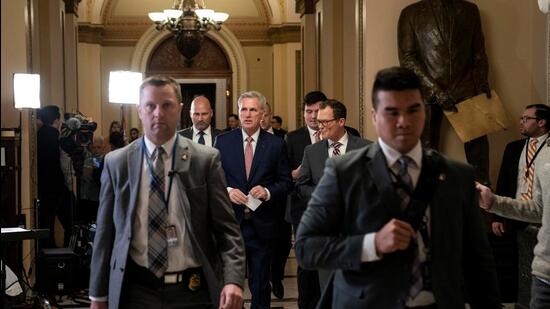 With 365 votes for and 65 against, the House on Tuesday created a new select committee to assess and investigate the multi-dimensional political, security, technological, economic and strategic threat from China to American interests and make recommendations to stop it.
China hawk Mike Gallagher, a Republican representative from Wisconsin (R-WI), will chair the committee. Earlier, he was a Republican member in the House Armed Services Committee.
"The greatest threat to the United States is the Chinese Communist Party. The CCP continues to commit genocide, obscure the origins of the coronavirus pandemic, steal hundreds of billions of dollars worth of intellectual property, and threaten Taiwan. The Select Committee on China will push back on a bipartisan basis before it's too late," Gallagher said.
The committee will have nine Republicans and seven Democrats. But a segment of Democrats belonging to the progressive caucus opposed the formation of the committee.
McCarthy's bipartisan thrust
"This will be a bipartisan committee...it is my hope, my desire, my wish that we speak with one voice, that we focus on the challenges we have. How do we bring our jobs back from China to America? How do we secure our intellectual property? How do we make sure our farmland is protected? All of that will be brought up in the committee," newly elected Speaker Kevin McCarthy (R-CA) said on the floor of the House.
McCarthy said that the threat was "too great" to be bickering among themselves.
"I have heard my colleagues from both sides that the threat posed by communist China is serious. I fully agree. This is an issue that transcends our political parties. Creating the select committee on China is our best avenue for addressing it."
He said that the committee would work on towards ending US dependence on China, protecting its national security, stopping the "theft of intellectual property", and bringing supply chains back. It would also work towards stopping Chinese propaganda in schools and its lobbying efforts in Washington, as well as the CCP buying up American farmlands.
"But to stop it with one voice. It is not one party saying it. It is America united, determining our own future."
McCarthy added that the committee will work to prevent trillions of American dollars financing "communist genocide and military modernisation".
Members of the committee will work with all other committees to "get the job done". The committee was for "serious lawmakers" to work as one Congress to deal with one of the greatest challenges of the future.
"No longer will we be dependent on China but no longer will we be vulnerable. We will do this together. I want this committee to last beyond who is in the majority."
Committee's agenda
In a piece for Fox News in December, after the midterm elections, McCarthy and Gallagher said that America had spent decades pursuing policies to welcome China into the international system. "But since then, instead of embracing freedom or becoming a responsible stakeholder, Beijing has flouted international norms while exporting totalitarianism, aggression and ideological control."
To win the "new Cold War" — the formulation of a Cold War is notable because the US administration has said that they do not see the competition with China as a new Cold War — the Republican leaders argued that the US must respond with tough policies.
"We must recognize that China's 'peaceful rise' was pure fiction and finally confront the CCP with the urgency the threat demands."
Listing out the priorities of the new committee, McCarthy and Gallagher noted the importance of restoring supply chains and ending critical economic dependencies on China and cited two examples to show this dependence.
"In 2021, the US imported a quarter of its antibiotics from China. India, a key producer of generic drugs, depends on China for 80% of the underlying active pharmaceutical ingredients — demonstrating that even ostensibly friendly sources of lifesaving drugs oftentimes ultimately trace back to China."
The two leaders also said the committee will work to prohibit American state and local pension funds from investing in China; make an urgent case for aiding Taiwan in its self-defence and building relationships with other Indo-Pacific allies; focus on developing new weapons and stockpiles to project power; push viable alternatives to the Belt and Road Initiative; and expose Chinese lobbying at all levels in the US and its attempts to infiltrate academic institutions, among other measures.
Progressives express concern
All the 65 who voted against the formation of committee were Democrats, including 22 members of the progressive caucus led by Pramila Jayapal (D-WA). In a statement, the progressives expressed concern about "reckless and prejudiced rhetoric and policy" contributing to a rise in "anti-Asian sentiment".
"This should not be a committee about winning a 'new Cold War', as the chair-designate of the committee has previously stated. America can and must work towards our economic and strategic competitiveness goals without a 'new Cold War' and without the repression, discrimination, hate, fear, degeneration of our political institutions, and violations of civil rights that such a 'Cold War' may entail," the progressives said.
They also urged the committee to ensure the presence of strong Asian-American Pacific Islander and pro-diplomacy voices in the membership.