Feel the Bern: Sanders turns up the heat on Hillary Clinton
Bernie Sanders is a nightmare from 2008 for Hillary Clinton.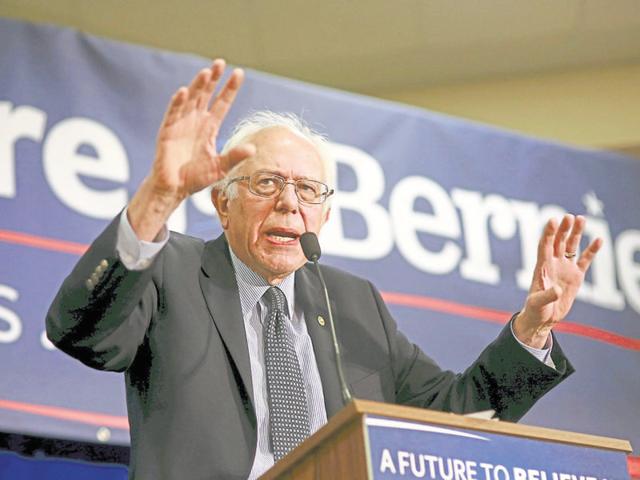 Updated on Jan 24, 2016 01:31 AM IST
Hindustan Times |
, Washington
Yashwant Raj
He has never owned a tuxedo, hates Wall Street, yells into the microphone and has come so close to Democratic front-runner Hillary Clinton in polls that she is feeling the Bern.
Bernie Sanders is a nightmare from 2008 for Clinton, when she, the inevitable Democratic nominee then as now, saw her campaign unravel after an upset defeat in the Iowa primary.
She never recovered, and lost the race to a cheeky but charismatic first-time senator. The Iowa primary is just a week from now, and Sanders just overtook her there in polls.
To use a Sanders campaign slogan, she can "Feel the Bern".
At the last Democratic debate, she completely embraced Obama, his every policy and misstep, pivoting from months of trying to distance herself and not seem like running for his third term.
Clinton still leads the 74-year-old senator from Vermont, a tiny rural state in America's northeast, 51.2% to 38% in national average of polls compiled by Real Clear Politics.
But he has been creeping up on her steadily, unobtrusively in the beginning but with some fanfare since last August, when he overtook her in New Hampshire, another tiny northeastern state.
Here is Sanders describing his rise at the last Democratic debate, in response to a question from moderator Lestor Holt. "Well, let me talk about polling," he started, in his typically gruff voice.
"As Secretary Clinton well knows, when this campaign began she was 50 points ahead of me. We were all of three percentage points. Guess what? In Iowa, New Hampshire, the race is very, very close. Maybe we're ahead in New Hampshire."
Sanders, who resembles a Nobel winning chemistry professor forcibly extracted from his lab, was low-balling himself and his chances, perhaps on purpose.
His lead over Clinton in New Hampshire has held for several weeks, and he is now beating her in Iowa —51% to 43% according to a new poll by CNN/ORC released Thursday.
This has been a long journey for Sanders, whose announcement of a White House run last April was reported in a manner that barely concealed writers' disbelief.
CNN ran a video titled, "Who is Bernie Sanders?" Words and phrases such as "long shot" and "uphill task" were used freely to describe his chances.
Sanders, of course, had different plans. "People should not underestimate me," he told the AP. "I've run outside of the two-party system, defeating Democrats and Republicans, taking on big-money candidates and, you know, I think the message that has resonated in Vermont is a message that can resonate all over this country."
Born in Brooklyn, New York to Jewish parents, Sanders moved to Chicago to finish college, after which he landed in Vermont. He worked as a carpenter and a documentary filmmaker.
As a student, he joined Young People's Socialist League — he continues to describe himself as a "Democratic Socialist". He ran unsuccessfully for governor and senator.
In 1981, he won his first election, for mayor of Burlington, Vermont' most populous city. He lives in Burlington with wife, Jane, and has four children.
He won three re-elections, before moving to US House of Representatives.
He served 16 years in the House before moving to the upper chamber, the Senate, in 2007, where he is serving his second term after being re-elected in 2012.
As member of the House, Sanders "fought tirelessly for working families, focusing on the shrinking middle class and growing gap between the rich and everyone else", says his website.
He was labelled "Amendment King" for moving more amendments than any other member. In senate, he headed the veterans' affairs committee.
Sanders has run an insurgent campaign funded by small donors, which he proudly touts as factor differentiating him from all others, who, according to him, are backed by Wall Street.
"I think a great appeal of Bernie Sanders and why he is doing so well is because he is seen as just kind of this authentic, cool, down-to-earth guy," said Mindy Finn, a former Republican operative who has worked on three presidential campaigns.
Clinton is completely lacking all three. She has seemed to be totally scripted and un-cool, which she has tried to address by appearing on late-night comedy shows among other things.
But she has been found most vulnerable on trust issues, buffeted by a string of controversies about donations to the Clinton Foundation and her use of a private email server.
Sanders's rise has much to do with Clinton's shortcomings. "It's his policies as well, but that aspect of his brand is something that's really appealing and I think particularly to kind of younger voters who see politics as a lot of BS," Finn said.
And, he doesn't own a tuxedo. "Let me go on record, you've got a scoop, you ready for this? Sanders told Time magazine in an interview. "I do not own a tuxedo. Never have I worn a tuxedo."
How cool is that.
Close Story
Personalise your news feed. Follow trending topics