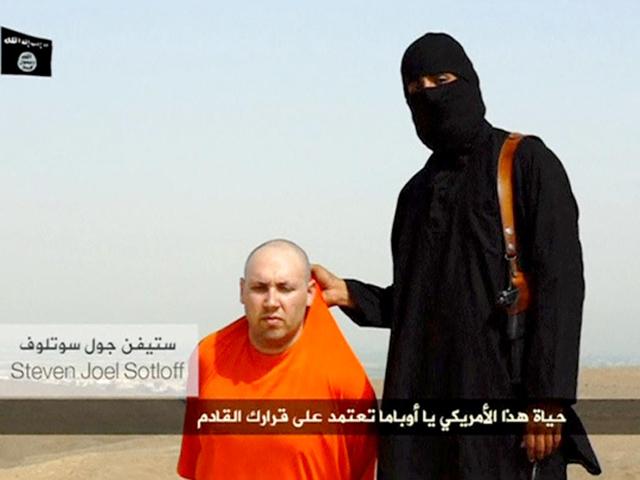 US not intimidated by Sotloff beheading: Obama
The US has confirmed that the video showing the beheading of American journalist Steven Sotloff by the ISIS is authentic. President Obama called it barbaric, saying justice will be done.
Hindustan Times | By Yashwant Raj (with inputs from Agencies)
, Washington
UPDATED ON SEP 03, 2014 06:10 PM IST
President Barack Obama on Wednesday said the US is not intimidated by the killing of American journalist Steven Sotloff and that justice would be served.

Addressing the media in Tallinn in Estonia, Obama also said he was 'repulsed by the barbarism of the Islamic State'.

His reaction came shortly after the US confirmed that the video showing the beheading of Sotloff by the ISIS was authentic, according to agency reports.

Sotloff, who freelanced for Time and Foreign Policy was last seen in August 2013, and has featured in the earlier video of the execution of James Foley.

Earlier report from HT Correspondent Yashwant Raj

In the video, Sotloff looked into the camera and said, "I'm sure you know exactly who I am by now and why I am appearing." He was dressed in the same orange jump suit worn by Foley and inmates of US prisons.
"Obama, your foreign policy of intervention in Iraq was supposed to be for preservation of American lives and interests, so why is it that I am paying the price of your interference with my life?"
The ISIS terrorist standing by side then says that as long as the United States continues "to strike our people, our knife will continue to strike the necks of your people".
Foley's executioner had made a similar threat, but airstrikes against ISIL positions in Iraq have continued, now expanding beyond in and around Mosul Dam to also cover Amirli and Erbil.
The central command said Monday it had carried out 123 airstrikes across Iraq since the start of the air-campaign on August 8.
Sotloff's mother, Shirley Sotloff, had appealed for mercy for her son in a video message last week. "I am sending this message to you, Abu Bakr al-Baghdadi al-Quraishi al-Hussaini, the caliph of the Islamic State. I am Shirley Sotloff. My son Steven is in your hands. You, the caliph, can grant amnesty. I ask you please to release my child. I ask you to use your authority to spare his life."
"As a mother, I ask your justice to be merciful and not punish my son for matters he has no control over.
I ask you to use your authority to spare his life and to follow the example set by the Prophet Muhammad, who protected People of the Book. I want what every mother wants, to live to see her children's children, I plead with you to grant me this."

Read:US journo's mother pleads with IS for son's release
A look at dangers posed by the Islamic State group

Close