A solar revolution can be India's ray of light
It is clear that more than tinkering with road rationing, solar is the bet that Delhi — and India — should be making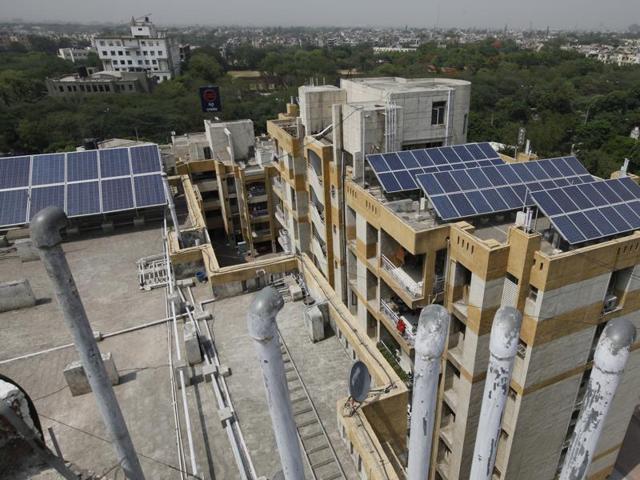 Updated on Jun 08, 2016 10:50 PM IST
Delhi's desperate attempt to control pollution by restricting cars based on their number plates in the so-called odd-even scheme is just a Band-Aid. The real problem that needs to be solved is the use of fossil fuels in cars, electricity generators, homes and factories. The most practical solution is for Delhi — and indeed, India — is to accelerate the solar revolution.
Read | Delhi govt aims to generate 1,000 MW solar power in five years
This may seem hard to believe, but at the rate at which it is advancing, solar could provide 100% of today's energy needs within 14 years according to American futurist Ray Kurzweil. And it will be almost free within 20 years, somewhat like cell phone calls today.
Solar installations have been doubling every two years for the past 30 years and costs have been dropping more than 10% per year. Prices of solar panels have fallen 75% in the past five years alone and will fall much further as the scale of production increases. By 2020, solar energy will be price-competitive with energy generated from all fossil fuels on an unsubsidised basis.
Read | Solar-powered trains to be a reality soon
In places such as Germany, Spain, Portugal, Australia, and the southwest US, residential-scale solar production has already reached "grid parity." This means it would eventually cost no more to install solar panels than to buy electricity from utility companies.
Read | Govt looking to boost made in India solar panels
Even the government was surprised when Skypower Global of Canada offered last July to supply electricity to Madhya Pradesh at Rs 5.05 a kilowatt-hour; it was the lowest rate ever quoted. In November, America's SunEdison contracted with Andhra Pradesh to supply solar energy for Rs 4.63 per kilowatt-hour. And then this January, a Finnish company, Fortum, offered solar to Rajasthan for just Rs 4.34. This is no foreign plot to bankrupt Indian competitors. Dubai just received a bid for Rs 2.01. Energy minister Piyush Goyal has noted that with the Rajasthan bid, solar tariffs have come down below thermal power costs.
Read | Solar power plants fails to attract consumers in Jalandhar city
However, the problem with solar is that the sun doesn't shine at night and it gets cloudy on some days. So there is a dependence on the grid for backup power — or there needs to be a cost-effective way of storing sunlight. Battery storage technologies are still very expensive but this is changing as well. The good news is that it is advancing on a curve similar to solar. Lithium-ion battery costs have fallen by 65% since 2010. They will likely fall at least another 50% by 2020 as Tesla's Gigafactory comes online in 2017 and companies such as Volkswagen and China's BYD step into the game.
Read | To buy or not to buy the all-electric Tesla car
The future of transport is in pollution-free but efficient electric vehicles. Tesla expects to release a luxury electric vehicle, the Model 3, in 2018, which will cost $35,000 and can go more than 200 miles (320 km approx) on a charge. Cars whose charge can last 100 km — good enough for most cities — are expected to run as fast as 100 km per hour and cost less than $5,000 (about Rs 340,000).
It is clear that more than tinkering with road rationing, solar is the solution that Delhi — and India — should be counting on.
Read | Renewable energy: The green light is finally on
Vivek Wadhwa is a fellow at the Arthur and Toni Rembe Rock Center for Corporate Governance, Stanford University
The views expressed are personal
Close Story