As India meets China at BRICS, Myanmar's Suu Kyi has much to achieve in Goa
Aung San Suu Kyi is expected to travel to New Delhi, where she will have a valuable opportunity to review India-Myanmar relations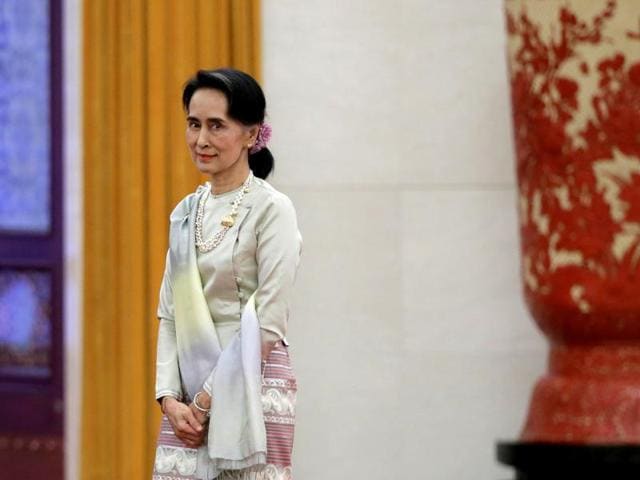 Published on Oct 15, 2016 10:51 PM IST
At the Brics-Bimstec (Bimstec is Bay of Bengal Initiative for Multi-Sectoral Technical and Economic Cooperation) outreach summit in Goa, there will only be one Nobel Laureate among the 11 participants: Aung San Suu Kyi, the de facto leader of Myanmar. She is neither president nor prime minister, but she is treated as an equal by other heads of government. Her participation in the summit and her visit to India could have long-term implications.
At the summit, Suu Kyi will be meeting Chinese President Xi Jinping and Prime Minister Narendra Modi together in a room — for the first time. Since becoming state counsellor, foreign minister and virtually the head of the Myanmar government six months ago, she has been engaged in a fine balancing act involving the nation's external partners: China, the US and India. Everything she says and does will be calibrated to promote Myanmar's interests, and designed to avoid taking sides on sensitive issues.
Read: Myanmar's Suu Kyi to meet PM during maiden to India after taking office
She may have a delicate role to play, especially now when India-China relations are under marked stress. The two nations disagree on a host of issues: 'One Belt, One Road' initiative, terrorism, South Asia integration, South China Sea, etc. Myanmar's position will be watched closely — both in New Delhi and Beijing.
In one area, though, South Block could receive Burmese support unhesitatingly, namely in its quest to redefine India's neighbourhood and to strengthen Bimstec, while pondering to abandon Saarc altogether. In this endeavour, Myanmar's importance for India as well as for South Asia will increase significantly, a development Suu Kyi should be happy to welcome. But, first she will need to overcome the impediment of strained relations with Bangladesh. Goa offers the possibility of a meeting between Bangladesh Prime Minister Sheikh Hasina and Suu Kyi. They met in New York last month to initiate the process of improving relations. Suu Kyi has accepted Hasina's invitation to visit Bangladesh.
After Goa, Suu Kyi is expected to travel to New Delhi. Modi and Suu Kyi will have a valuable opportunity to review India-Myanmar relations, following the visit to India by President Htin Kyaw in August. During the military rule until early 2011, Myanmar enjoyed excessive affinity with China. This began to change gradually during the presidency of Thein Sein (2011-16). Suu Kyi is striving for warm relations with Beijing, but at the same time she is determined to enhance the range and depth of cooperation with others. Her recent visit to the US resulted in a major gain — the lifting of American economic sanctions.
Read: India has advantage in Suu Kyi-led Myanmar: Chinese media
Bilateral India-Myanmar discussions will hopefully impart further momentum to expanding economic relations and broadening exchanges at the people's level. During her last visit to India in November 2012, Suu Kyi had highlighted the role of civil society linkages, stating that "Governments come and go…but the people remain". Perhaps the bilateral meeting will also pave the way for an early visit by Modi to Myanmar.
Two other countries matter much to both India and Myanmar, but only one of them will be represented at the Goa summit, namely Thailand. Myanmar-Thailand and India-Thailand ties have now been showing considerable warmth and vitality, leading a few experts to suggest that a new trilateral dialogue mechanism — India, Myanmar and Thailand (IMT) — should be created and nurtured.
Read: Myanmar is special for India, says PM Modi after meeting Htin Kyaw
The country absent in Goa but of crucial relevance both to India and Myanmar is Japan. In the unfolding geopolitical game in East Asia, Japan and India have emerged as close strategic partners. By working together on a few development projects in Myanmar and forging collaboration between Indian and Japanese companies in the Myanmar market, the two nations can achieve much. It is an enticing prospect which Suu Kyi's government is certain to encourage.
Rajiv Bhatia is Distinguished Fellow, Gateway House, and a former ambassador to Myanmar
The views expressed are personal
Close Story