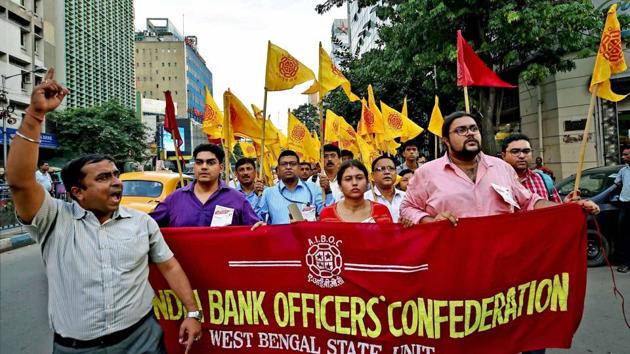 Bank unions are on a suicide mission
Public sector banks are overmanned and inefficient, and will thus bear the brunt of higher competition due to the disruptions caused by big changes in banking business models
By R Jagannathan
UPDATED ON AUG 24, 2017 12:05 PM IST
The one-day bank strike on August 22 was a testimony to the disruptive power of the unions, but won't help resolve any of the key issues bedevilling the industry, which is 70% in the public sector. What the strike has demonstrated to ordinary bank customers is that they should shift to private sector banks in order to avoid disruptions.
Some of the demands made by the unions are defensible, including compensation for banks which were loaded with the costs of managing demonetisation, and declaring wilful defaults on corporate loans as a criminal offence.
But many more make no sense.
The unions want a halt to banking sector reforms and consolidation, and a no-writeoff policy on bad loans. Nowhere in the world do banks adopt a no-writeoff policy, and bad loans resulting from business failures do involve haircuts and writeoffs, especially when the failures are bonafide and not the result of fraud or the siphoning of funds.
As for consolidation, India has simply too many banks, and some degree of consolidation is vital for survival. Many small banks – Dena Bank, Indian Overseas – United Bank, and Central Bank of India, among them — are weakly capitalised, and without more equity, they cannot grow and survive.
So, while it is fine for unions to be concerned about the future of their jobs and the bad loan situation, their strike will do nothing to improve the situation. For example, when it is fair to ask the government to compensate banks and staff for the extra work they did during demonetisation, how is it fair to ask banks to bear the losses caused by the unions' own strike, which resulted in inconveniencing customers, and caused business losses? Will unions bear these costs? In any event, since public sector banks are ultimately a sovereign responsibility, any losses – whether due to demonetisation or a strike – will ultimately have to be compensated by the taxpayer, whether through recapitalisation or lower dividends payable to the exchequer.
The real problem the strike highlights is the blissful unconcern the unions display about the long-term competitive positions of public sector banks. The strike impacted public sector banks more than private ones, since this is where the unions are strong. And it is public sector banks that are facing bigger losses than private banks due to the bad loans overhang.
Public sector banks are overmanned and inefficient, and will thus bear the brunt of higher competition due to the disruptions caused by big changes in banking business models.
For example, the arrival of payment and small finance banks means that there will be competition for low-cost deposits and high-interest paying borrowers. Airtel Bank, for example, is paying 7 % on deposits and Kotak Bank 6% when public sector banks have reduced savings bank rates to 3.5 %. Small borrowers, who pay the highest rates on borrowings, will increasingly be wooed by small finance banks.
Another big disruption heading at the speed of light towards stodgy public sector banks is digital banking. With demonetisation giving a push to e-payments and mobile banking, banks need fewer branches and ATMs in future. Even cheques are largely redundant for large payments. At some point, if e-wallets, online payments and mobile banking spike, even credit and debit cards will be less and less in demand. This means the most cost-competitive banks will not be those with lots of branches or ATMs or card customers, but those who can keep overheads lean and focus on digitising customer transactions. An Airtel with over 300 million mobile customers does not need too many branches to reach new customers. The Post Bank of India, with nearly 1.5 lakh branches, will be able to reach more customers in rural areas than any public sector bank – in fact, all of them put together.
Nandan Nilekani, former chairman of the UIDAI, says that banks will have to learn to earn money from data – the information they already have on their millions of customers, which they can use to cross-sell products like mutual funds or even consumer products. Thus fee income from cross-selling products will be key to profits, not just plain vanilla lending.
Given the changing nature of the challenges facing banking, public sector banks are on a losing wicket where they will have to shed labour rather than maintain current manpower strengths. Employment in banks will grow, but not of the kind which will join unions. The future of banking employment lies in those who manage bank technology and networks, those who focus on cyber frauds, and those who can sell and market products, and those who can offer customised services. But unionised banks are not the best advertisements for customer service. New banks will increasingly seek to replace manpower with technology.
In this scenario, what should unions do to stay relevant? The answer is simple: They should be demanding skill upgradation courses so that they can enhance their careers; they should be demanding better voluntary retirement schemes for those who are too old to retrain.
The last thing they should be doing is going on strike, and weakening the very banks that provide them a livelihood right now. They are cutting the branches they are sitting on.
R Jagannathan is editorial director, SwarajyaThe views expressed are personal
Close