Why rural UP, small towns are ready to give Modi a chance on demonetisation
There is an overwhelming degree of faith in the perceived integrity and vision of Modi. The 'Modi hawa' of 2014 may not be as strong but has not dissipated entirely either. If the scheme was seen as just another government programme, there may well have been more cynicism.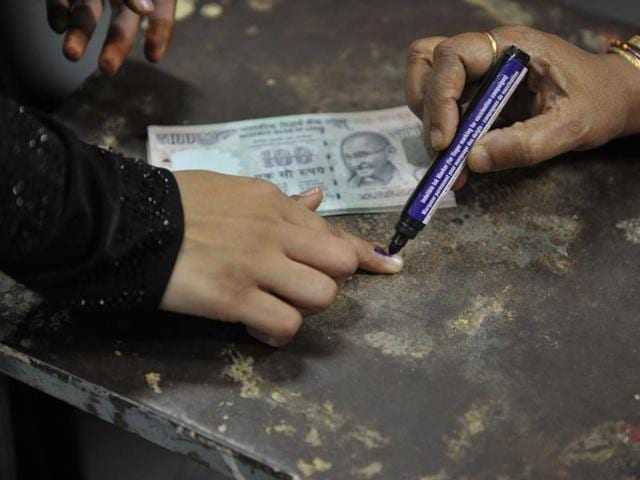 Updated on Nov 18, 2016 07:22 PM IST
The decision to render illegal Rs 500 and Rs 1,000 banknotes has caused inconvenience and understandable outrage in many parts of the country. Every day, we see images of long queues and angry mobs, especially in urban centres.
There is a strong critique of whether the measure will indeed tackle the core problem of black economy, which is wider than black money. There is also a rather well justified growing point of view that the policy measure was not thought through, and implementation has been messy and slow, with questions being raised about whether cash supply will be restored to normalcy in 50 days. More thoughtful commentators have also pointed out that this could mark the restoration of a more interventionist state—with enormous discretionary power—in the realm of private economic activity.
Read: In rural UP, demonetisation causes 'temporary pain' but draws support
All of this has led many to conclude that this could well be PM Narendra Modi's biggest political blunder, that he has lost out on his traditional core vote, and has not been able to win the rural poor who are now adversely affected.
Yet, in travels across eastern Uttar Pradesh's small towns and rural pockets over the past week, we came across dozens and dozens of people who were inconvenienced, yet hailing the government's move. There were some who were angry, but the dominant sentiment was of support.
This may be completely contrary to what common sense would dictate. After all, anyone whose life is disrupted will be unhappy. But that's not quite the case. And to questions about whether this will connect people with Modi or irritate them, an overwhelming number of respondents said it will connect them.
There are three broad factors that seem to be driving this support.
One, there is an overwhelming degree of faith in the perceived integrity and vision of Modi. The 'Modi hawa' of 2014 may not be as strong but has not dissipated entirely either. If the scheme was seen as just another government programme, there may well have been more cynicism.
But it is associated with the PM, who in turn is being credited for delivering on his anti-corruption and black money promise. It is now clear that this will be Modi's signature policy programme —-- just like bank nationalisation and privy purse abolition was for Indira Gandhi. There is a sense that Modi is clean, that this move is driven by integrity and good intentions, and he deserves a chance.
The second factor is the conviction that this is a 'pro-poor move', or more starkly, this is an 'anti-rich move'. People who are suffering believe that those who have more money, those who have accumulated wealth by stealing resources, by cheating the government --- and by extension the public --- are the ones who are suffering more. And so, there is a large section willing to absorb pain because this pain is relatively less than that of others.
It is an irony that India's strong right-wing Prime Minister has tapped into the underlying class conflict that exists in the society, and projected himself to be on the side of the poor, rather than the rich.
Inequality in India is stark, there is deep resentment against this inequality, but politics has not yet found a language to express this resentment beyond categories of caste-based discrimination, which often, but not always, overlaps with class.
What this move has done is given a sense to a substantial segment of voters that Modi is addressing the question of inequality by punishing the rich. Whether this is indeed the motive, whether India will become more equal are issues for a separate debate. But it is driving support.
Read: Why Prime Minister Narendra Modi has already won the demonetisation gambit
Three, there is a more tangible expectation that at the end of this cycle, there will be something good to look out for --— achche din aane waale hain. For some, it is undefined: the country will do better. For others, it means a sharp drop in prices. For small town entrepreneurs, it could mean a drop in interest rates. For smaller farmers or labourers, it could mean greater welfare expenditure and public investment.
The point is that people do not see this as the end game. They are seeing this as the beginning of a potentially transformative economic moment. And this, for them, needs to have a strong component of redistribution —-- so that the resources that are supposed to come into the government's kitty are used for them. No one is naive enough to believe there will be transfer of Rs 15 lakh into bank accounts --— the famous election jumla that came back to haunt the BJP -- but the support hinges on a degree of transfer of resources in some form or the other, or creation of greater opportunities.
And finally, people are willing to support the move because the period of suffering is--— as Modi has promised --— limited. If the situation persists for long --— cash flow remains slow especially to smaller towns, bank queues don't end, credit arrangements many are relying on at the local level frays hampering daily livelihoods --— then this support can translate into disenchantment and anger within days.
The outrage in urban India is not quite representative of the whole country. The fact that the poor are adversely affected is also beyond doubt, but the fact that they are giving the benefit of doubt to the "sarkar" in many parts of the country is also apparent. Whether the government will live up to the faith invested in it will be tested in the coming weeks.
Close Story
Personalise your news feed. Follow trending topics