It is tough to rein in gau rakshaks at this stage
Published on Sep 06, 2016 09:01 AM IST
If this was a matter of simple crime the criminal could have been easily apprehended. But when religiosity becomes packaged with state policy, the reach of the strong arm of the state shrinks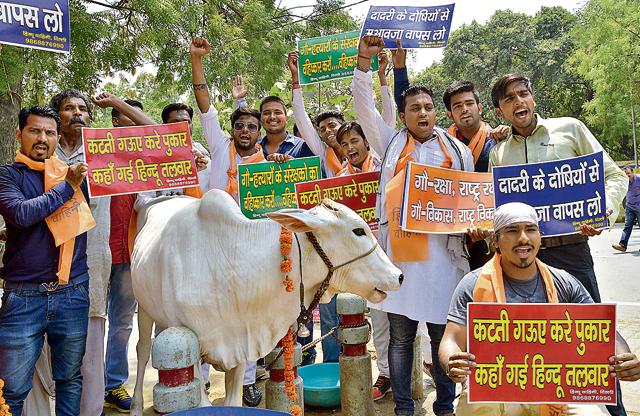 There seems to have been no let-up in the virulence of the gau rakshaks, who are active all over the country and spewing hatred at alleged cattle rustlers and cattle smugglers. And this is despite Prime Minister Narendra Modi's stern admonition to them that they should refrain from activities such as taking the law into their own hands. One such cow vigilante in western UP told his associates that though he did not agree with the prime minister on most of the things he (Mr Modi) said on the matter, he concurred with him that "we should not take the law into our hands". However, he followed it up by saying that he told his workers to hit "the wrongdoers" but not to "break their bones" because doing so "can land you in trouble with the police". However, a clarification followed, saying that he meant "self-defence".
Read: MCD teaches a cow-concerned citizen e-cow-nomics
Wrong-doing cannot take place in a vacuum. Nor can it be entrenched without a measure of support from some quarters. Cow-protection movements go back to the 19th century at least. And cow protection has been on the agenda of the BJP, which is in power at the Centre and many states, including the three largest ones in India. And, as the subject can arouse emotions in people, such emotions come in handy for those who want to make improper use of them. This is what Mr Modi had meant when he had said many of the gau rakshaks were actually "anti-socials". But just a correct description is not enough to deter a person with a bad intent. Only tough policing can. But the problem here is that the police do have a finger on the pulse of the government, and if they sense that if the thinking of some people in power has a convergence with that of the miscreants, they simply refrain from taking action. It is commonly seen that the law-enforcers do not remain out of step with "the spirit of the age". And the ill-intentioned in the police find in all this an easy way for rich pickings.
Read: Punjab Gau Raksha Dal chief arrested for 'unnatural offences', abduction
So the situation has become a very complicated one. Looked at in one way, this is tradition vs modernity. Turned around it could also be seen as distorted tradition vs law. If this was a matter of simple criminality the criminal could have been easily apprehended. But when religiosity becomes packaged with state policy, the reach of the strong arm of the state shrinks.
Personalise your news feed. Follow trending topics