Karunanidhi brought social justice to Tamil Nadu
From providing free electricity to farmers to increasing reservation, the DMK leader took several steps that seemed small but were actually giant leaps. In a sense, they made Tamil Nadu the social justice state that it is.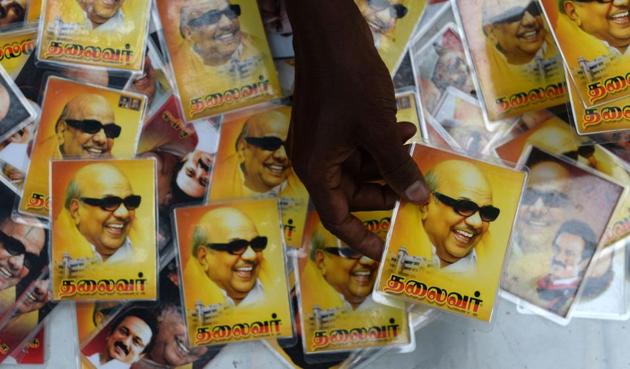 Updated on Aug 08, 2018 08:22 AM IST
July 27, 2018, was significant in more ways than one. On that day, Tamil Nadu's grand old politician M Karunanidhi entered his 50th year as the president of Dravida Munnetra Kazhagam (DMK) — perhaps the only leader in the world to hold a position for half a century. The day also witnessed an inactive Karunanidhi's health deteriorating rapidly, giving way to rumours. A day later, he was rushed to a hospital. But much before July 27, speculation was rife about Karunanidhi's worsening health condition, keeping party men worried. Yet on July 27, when he was shifted to a hospital, they were protesting against a hike in property tax.
Rewind to September 2016 when J Jayalalithaa, at the time Tamil Nadu chief minister, was hospitalised. Soon after, her ministerial colleagues offered special prayers and undertook spiritual activities "for her recovery" that more often than not bordered on irrationality. For the AIADMK, despite claiming to be an offshoot of the Dravidian movement, such activities "were not new".
In contrast, the protesting DMK workers carried forward the cherished legacy that Karunanidhi might have desired to leave behind. During his tenure as an activist and politician — 80 years in public life, 50 years as a party chief and five terms as chief minister — Karunanidhi has weathered many storms. During the 13 years from 1976 to 1989 that he had to remain out of power when the AIADMK's founder leader MG Ramachandran was ruling the state and, when in 1991, the assassination of Rajiv Gandhi threatened to wipe out the DMK, Karunanidhi perhaps faced adversity that would have effectively reduced any other leader to a non-entity. Yet the DMK's patriarch always made a remarkable comeback. If it was partly because of his keen political acumen, it was also partly because of the politics he fervently believed in: the Dravidian ideology.
During his five terms as CM, Karunanidhi took upon himself to translate the dreams of Dravidian icon Periyar into reality. In doing so, he helped consolidate Tamil Nadu's position as possibly the most progressive and rational state in the country. It was during his tenure that women were granted rights to a property. The DMK patriarch also drove the electrification programme in Tamil Nadu.
From providing free electricity to farmers to increasing reservation, the DMK leader took several steps that seemed small but were actually giant leaps. In a sense, they made Tamil Nadu the socially just state that it is.
Perhaps the last of the tall Dravidian leaders, the biggest legacy that Karunanidhi would leave behind is this: Tamil Nadu remains a formidable roadblock for the BJP. Critics accuse him of aligning with the BJP previously and giving it some legitimacy, yet when he did so, Karunanidhi did so on his own terms. The once-upon-a-time alliance has failed to provide an effective platform for the BJP to survive and grow on. In fact, since his inactivity, Karunanidhi's son and DMK working president MK Stalin have repeatedly said that his party would not allow the BJP to grow in the state. In being an antithesis to the Dravidian ideology, the BJP is inherently alien to the Tamil land. Karunanidhi's legacy will only ensure it continues to be so.
On July 29, when the DMK chief's health showed stability, the news of the appointment of Tamil Nadu's first non-Brahmin priest in a Hindu temple surfaced. In 2006, it was Karunanidhi who had passed an order, making it possible for anyone to become a priest irrespective of caste, and when he did so, the DMK leader observed that the move will "remove the thorn from the heart of Periyar". Battling for his life, one is not sure if Karunanidhi was aware of this development. But the order was among his most cherished legacies.
Kavitha Muralidharan is an independent journalist
The views expressed are personal
Close Story
Personalise your news feed. Follow trending topics