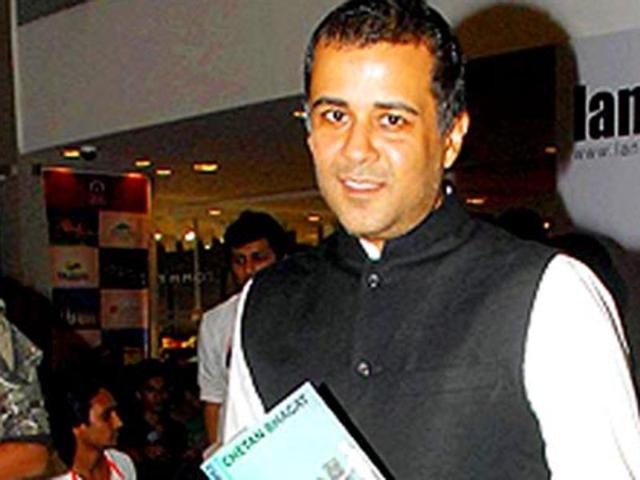 Mr Chetan Bhagat, silence is golden. You should try it
Chetan Bhagat's weapon of choice is sarcasm and humour. Far less damaging, but it still does the damage, writes Jyoti Sharma Bawa
Hindustan Times | By Jyoti Sharma Bawa
UPDATED ON OCT 31, 2015 01:25 PM IST
October 29: More than 50 historians return awards following concerns over the highly vitiated atmosphere in India.
October 30: Chetan Bhagat starts finding historians funny. Heck, he even has a joke on them.
October 30: When targeted on Twitter, he accuses users of intolerance. That, and lack of humour.
Mr Bhagat, you are a bestselling author in this country. So, we may have many faults but lack of humour can't be one of them.
Here goes his latest joke, which many failed to see as a joke. Imagine, some even thought he had an agenda: "What do historians do? I am genuinely curious. This happened. Then this happened. Then this. Ok work done for the day."
Some serious criticism followed. Many would have said the author should have seen it coming. In these politically sensitive times, when neutrality is not an option, when you are either with them or against them, such a loaded joke – ok, if you insist – is wont to provoke a comment. Or ten.
However, that left Bhagat hurt. He responded on Twitter: "In India, you can't kill cows. And you cannot even make a joke on holy cows. Like historians. Sorry if any animals or sentiments were hurt."
Holy cow, now you are really stepping into the crap, sir.
Bhagat also explained how he was trying to save the pride of our country before the foreign media picks on the issue of an intolerant India. You know, he doesn't want Them to see Us as "poor backward Indians".
Sweet. Especially when a bunch of people is getting so worked up over nothing. As his tweet so succinctly put it, India is hardly intolerant – "Just as a gun incident in US doesn't make every American a gun-toting murderer, a few unfortunate incidents don't make Indians intolerant."
We believe people of two different countries need to take up cudgels with the author. Dear Mr Bhagat, America's gun culture is harming them (even their President believes so), just as India's growing culture of intolerance is harming us.
When historians such as Romila Thapar, Irfan Habib, KN Pannikar and Mridula Mukherjee petitioned President Pranab Mukherjee, this is what they had to say, "Differences of opinion are being sought to be settled by using physical violence. Arguments are met not with counter arguments but with bullets."
Bhagat's weapon of choice is sarcasm and humour. Far less damaging, but it still does the damage. As scholar John Morreall, author of Taking Laughter Seriously, said, the reason why humour is evaluated negatively is because it involves laughing at others; that it is motivated by malice, mockery, derision and feelings of superiority.
Thus, such humour is considered morally repugnant.
It feels so much more painful when it is directed towards one's self. "A few tweets of mine and the tolerants get so intolerant on me," was Bhagat's tweet. Ouch!
(The views expressed by the writer are personal. She tweets as @JSB17)
Close