Revitalising India-Russia ties a challenge for Modi
Jun 01, 2017 01:43 PM IST
As India has moved strategically closer to the US, American policy has worked against India's regional interests, propelling Moscow to forge closer ties with China and to build new relationships with the Taliban and Pakistan
Prime Minister Narendra Modi's Russia visit raises a fundamental question: Is Moscow still India's 'tried and trusted' friend? Russia's growing relations with India's adversaries, China and Pakistan, have spurred unease in New Delhi. However, many in India have failed to grasp the factors driving Moscow's overtures to Islamabad or its sale of offensive weapon systems to Beijing.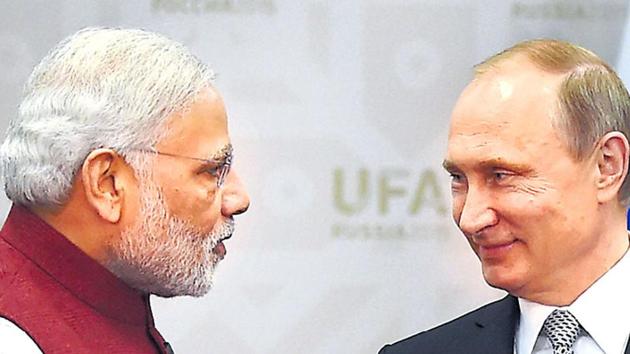 Such moves have little to do with India. Russia may be in decline economically but, geopolitically, it is a resurgent power, spreading its geopolitical influence to new regions and pursuing rearmament at home. Russia is the only power willing to directly challenge US interests in West Asia, Europe, Caspian Sea basin, Central Asia and now Afghanistan, where America is stuck in the longest war in its history.
In keeping with the maxim that countries have no permanent friends or enemies, only permanent interests, Russia has rejigged its geopolitical strategy to respond to the biting US-led sanctions against it since 2014. Russian President Vladimir Putin has significantly expanded the geopolitical chessboard on which Moscow can play against the US and Nato.
Putin has made Russia the central player in the bloody Syrian conflict, fuelled by outside powers. Until Russia launched its own air war in Syria in September 2015, the US-British-French alliance had the upper hand there, aiding supposedly 'moderate' jihadist rebels against Bashar al-Assad's regime and staging separate bombing campaigns against IS. Russia's direct intervention, without bogging down its military in the Syrian quagmire, has helped turn around Assad's fortunes and reshaped Moscow's relationships with Turkey, Israel and Iran.
As part of his multidimensional chess game, Putin is also building Russian leverage in other countries that are the key focus of US attention — from North Korea to Libya. But it is Russia's warming relationship with the medieval Taliban — the US military's main battlefield foe in Afghanistan — that seriously conflicts with India's interest.
Russia's new cosiness with the Taliban, of course, does not mean that the enemy of its enemy is necessarily a permanent friend. Moscow is opportunistically seeking to use the Taliban as a tool to weigh down the US military in Afghanistan. Because of the Taliban's command-and-control base and guerrilla sanctuaries in Pakistan, Moscow has also sought to befriend Islamabad. This imperative has been underscored by Washington's refusal to bomb the Taliban's command and control in Pakistan.
The paradox is that as India has moved strategically closer to the US, American policy has worked against India's regional interests, propelling Moscow to forge closer ties with China and to build new relationships with the Taliban and Pakistan. The US still continues to fecklessly accommodate China and battle the Taliban on just one side of the Afghanistan-Pakistan divide. Russia is equally nonchalant if its geopolitical chess play squeezes Indian interests.
The revival of the 'Great Game' in Afghanistan is just one manifestation of the US-Russian relationship turning more poisonous. Another sign is Moscow's stepped-up courting of Beijing. For example, with Russia staying quiet, last year's BRICS Goa Declaration, at China's insistence, omitted any reference to cross-border terrorism or to any Pakistan-based group, yet mentioned IS and al-Nusra. Putin attended the recent 'One Belt, One Road' summit in Beijing despite his concern that China is using that project to displace Russia as the dominant influence in Central Asia.
With Russia becoming the largest crude oil exporter to China, Moscow-Beijing ties are booming economically, yet underlying political suspicions and wariness remain. In the India-Russia case, it is the reverse: Relations are warm politically but the two-way trade is in sharp decline, slumping to less than $8 billion in 2015. US-led sanctions against Russia, by promoting Moscow-Beijing closeness, are undercutting a central US policy objective since the 1972 opening to Beijing — to drive a wedge between China and Russia.
For Putin, the sanctions represent war by other means and a justification for Russia to countervail US power. With the US Congress threatening to impose additional sanctions even as a special counsel investigates alleged collusion between President Donald Trump's election campaign and Moscow, US-Russian tensions and rivalries will continue to buffet India's regional interests, but serve as a strategic boon for China.
Against this background, Modi faces an exigent challenge to revitalise a flagging partnership with Russia while safeguarding India's regional security and its $3 billion development aid to Afghanistan since 2002. This challenge is compounded by the fact that a robust relationship with Moscow is vital to a balanced Indian foreign policy, to leveraging India's ties with other powers, and to managing an increasingly muscular China. A drifting relationship with Russia would crimp India's options, to its serious detriment.
Brahma Chellaney is a geostrategist and author
The views expressed are personal